In A Madness of Sunshine by Nalini Singh, Even though Anahera has been away from her hometown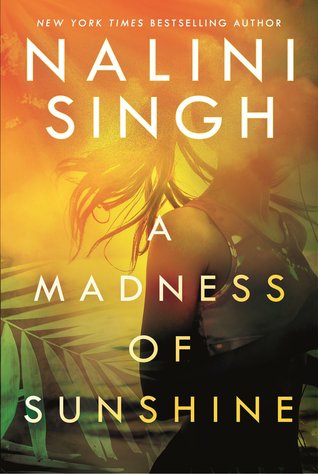 of Golden Cove, New Zealand for almost a decade, not much seems to have changed. Her best friend Josie still lives there with her husband and child. The cabin Ana lived in before leaving town is still standing–and still holds dark memories she'll never forget. But shortly after her arrival, a local young woman goes missing. No one is certain if foul play is at hand or if she got injured in the unforgiving landscape and can't get back to town for help. But as each day ticks away with no sign of her, Ana can't help but remember three other women who went out on the hiking trails several years ago and never came back.
'Her disappearance had stained Golden Cove's heart. Nothing would scrub away that stain until they found her or discovered what had happened to her.'
As the only cop in Golden Cove, Will takes the safety of its residents very seriously. Even if he's only been in town for a few months. He's formed friendships and got to know just about everyone, including the young woman who turns up missing. Worried that he might have a crime on his hands to solve in his remote town, Will teams up with the locals to perform search after search, only to find nothing. When he starts narrowing down persons of interest to speak with, it becomes clear that there's a lot more going on in Golden Cove than at first glance. Much of it more evil than a jaded cop like Will would even expect.
"Everyone has hidden corners of their life, even the people we think we know inside out."
A sinister tale of the dark secrets that an inviting but far-flung small town hid from the world, A Madness of Sunshine shows off Nalini Singh's writing prowess and proves that no matter the genre, she is a master at her craft.
'People saw the stunning landscape and wanted to explore it. What they didn't understand was that the beauty had teeth.'
I was a little bit nervous when I picked up this book where it is a whole different type of story by Nalini Singh. But I should have known not to worry. No matter what she writes, the same attention to detail as well as the level of character and emotional depth rings true. And what a dark and twisted book this turned out to be! There were shifts in the plot that I didn't see coming, and of course layer upon layer of secrets and lies that I honestly had a tough time sorting out. Singh made almost every person in Golden Cove look like a suspect. And that led to a truly page-turning experience for this reader.
The main characters were Anahera and Will– she was a local who just returned to town after being in London for about a decade; and he was the lone cop in Golden Cove, only having been there a few months. I'll admit it was slow going for a while, trying to get all of the many people straight in my head. It was quite a varied cast and they all had their own part in the secrets and everything that happened around town. But once the investigation into the young local woman's disappearance began in earnest, the pace of the story picked up considerably. As did the plot twists.
While this was mainly about the woman vanishing, there was a tie in to three similar occurrences several years before when female hikers went missing. And just to make things even more interesting, there was also a teeny bit of romance brewing in Golden Cove. (Can you tell I can't get into many details at all without giving major plot points away? lol)
A Madness of Sunshine was an enthralling novel that conveyed the lush beauty and the unforgiving nature of a town on New Zealand's West Coast. Dark, mesmerizing, and filled with enough exciting moments to make your heart race, this is a book that fans of mysteries and thrillers will definitely want to add to their to-be-read list.
Book Info:

Publication: December 3rd 2019 | Berkley |
New York Times bestselling author Nalini Singh welcomes you to a remote town on the edge of the world where even the blinding brightness of the sun can't mask the darkness that lies deep within a killer…
On the rugged West Coast of New Zealand, Golden Cove is more than just a town where people live. The adults are more than neighbors; the children, more than schoolmates.
That is until one fateful summer—and several vanished bodies—shatters the trust holding Golden Cove together. All that's left are whispers behind closed doors, broken friendships, and a silent agreement not to look back. But they can't run from the past forever.
Eight years later, a beautiful young woman disappears without a trace, and the residents of Golden Cove wonder if their home shelters something far more dangerous than an unforgiving landscape.
It's not long before the dark past collides with the haunting present and deadly secrets come to light.