A Man Like Mike by Sami Lee: With the exception of her best friend Jace, Eve has always felt very alone in the world, like she didn't belong and that no one cared about her. Suddenly Jace and Jace's husband Derek die, leaving Eve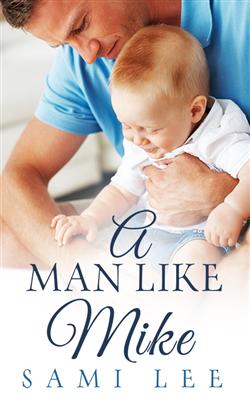 the sole guardian for their 10 month old son Bailey. Despite her doubts about herself and her parenting skills, Eve is determined to give Bailey the best upbringing she can, to make sure he knows he matters and belongs. However, Eve is very unsure of herself and full of doubts. She avoids Bailey's grandparents not only because she senses their doubts about her ability to raise Bailey, but she is also worried they will try to take Bailey from her.
Out of the blue, a month and a half after Bailey's parents death, Derek's brother Mike shows up at the house Derek left him that Eve and Bailey are living in. He has decided he wants to be a part of Bailey's life, he's going to move into the house with them and help Eve with Bailey. Eve does not want to admit she needs help, nor does she want to admit to either herself or Mike that she is attracted to him. Mike is certainly attracted to Eve and he does not hide it! Eve has some issues to deal with from her past, and she's convinced Mike won't stick around on a permanent basis. Can Mike convince Eve to give him a chance to be part of her and Bailey's life? Or is Eve to scared of the "What if's" to give in to her attraction?
"Her fingers tingled at the contact, and she felt her heart flutter…"
Sami Lee gives us some interesting characters in A Man Like Mike! Mike is an upfront, genuine, hard working guy who I'd love to have around! Eve has so many issues and insecurities and I feel she hides too much behind them and makes too many assumptions about people. But she is trying her hardest with Bailey, determined to give him the kind of childhood she did not have. While not always like able, I had to admire and respect Eve! Bailey is lucky to have either or both of them in his life.
If you want a quick romantic read that's not explicit then I'd recommend this book!
Rating:
Book Info: Publisher: Escape Publishing – Harlequin Enterprises, Australia Pty Ltd (March 1, 2013)
Corporate professional Eve O'Brien needs a crash course in parenting when her dearest friend Jacinta and her husband die, naming her sole guardian of their baby son Bailey. As if bright orange goo on her business shirts and terminal exhaustion aren't enough to deal with, Bailey's uncle shows up insisting on being part of his nephew's life.
Roguishly handsome with a devil-may-care attitude, Mike Wilcox is always first with a quip or a flirtatious smile. When he breezily suggests he move in with her temporarily, Eve sees no way to refuse, as the cottage in which she now lives has been left to Mike by his late brother.
On the surface, Mike seems like the perfect housemate. He's a successful chef, so Eve's diet goes from fast food to five star overnight, and he effortlessly takes on day-time care of his nephew, while working at a local restaurant in the evenings. But he wears muscle hugging T-shirts and makes the cottage seem like a home, things that appeal to Eve more than she cares to admit.
A lonely, neglected child, Eve has learned to rely only on herself, but soon having Mike around makes her want to believe things can be different. But how can she trust a man who's lived life by the seat of his pants to stick around for the long haul?