In Sutherland's Pride by Kathryn Brocato Pride Donovan ran away from home after her boyfriend denied being the father of her child and accused her of infidelity, very publicly, no matter how she tried to explain he was wrong. After being disowned by her father too, she went to live near her cousin, only to have her father tell everyone that she had a miscarriage.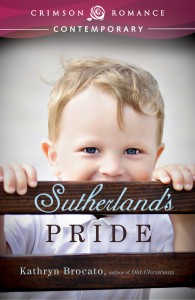 Flynn Sutherland has never forgotten the girl he loved. She left without a trace he could follow. Now that Pride is coming back to Houston to bury her father, he sees this as his chance to get her back.
Flynn is in for a big surprise, for Pride is coming to Houston with her cousin, her three children and her own son Johnny. Now three years after she left, Pride faces the task of introducing Flynn to his own son, and convince him once and for all that she never cheated on him. But she will not find forgiveness something easy, for she keeps thinking that Flynn will make her unhappy as her father made her mother.
Flynn and Pride go on some fun outings while Flynn tries to convince Pride to give him a second chance and Pride gathers the courage to tell Flynn that Johnny is his son. But not only that, Flynn will have to find a way to convince Pride that he really loves her and is not only interested in the son he never thought he could have While Pride finally has to face the truth of her feelings and forgives Flynn for his mistakes and her dead father for all she suffered while he was alive.
Sutherland's Pride is a sweet and fun romance about second chances and forgiveness that will keep you hooked till the last page.
Rating: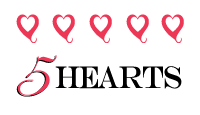 Book Info: Publisher: Crimson Romance (March 4, 2013)
Pride Donovan returns to her old home in the small Texas Gulf Coast town of Anahuac when her father dies, and somehow she is not surprised when her former lover, Flynn Sutherland, does not recognize her little boy as her child and his, even after spending an afternoon on his sailboat with the child.
When Flynn tries to rekindle her feelings for him, she knows he is about to get the shock of his life, because Flynn firmly believes he is sterile. Instead, Pride finds herself in shock when Flynn accepts his son and researches her own "Single Mommy" newspaper column for hints on how to coax her into marrying him.
Pride thinks she has many good reasons why she shouldn't marry Flynn, including a childhood spent with a father who claimed she was not his child. She isn't about to allow such a thing to happen to her son, no matter how strongly Flynn declares he believes her.
Can Pride overcome her hurt and learn to trust Flynn again?
Sensuality Level: Behind Closed Doors