In A Mistress, A Scandal, A Ring (Ruthless Billionaire Brothers #2) by Angela Bissell, Jordan is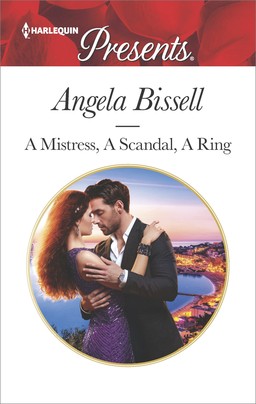 determined to honor the promise she made to her stepmother. However, getting a meeting with ruthless billionaire Xavier de la Vega isn't easy. Lying to get an appointment seems to be her only option, but she never imagined she'd find herself attracted to a man that is her total opposite. Will Xavier be able to convince Jordan to take a chance on him or will their shot at happy ever after never happen?
"Do you find that concept strange, Ms. Walsh?" he said at last. "The idea of hiring a proven professional who can handpick a shortlist of candidates whose needs, goals and desires perfectly align with your own?"
She flushed. "No, I don't find it strange. I know there's plenty of matchmaking services out there, and that plenty of people avail themselves of such a service. I'm just not convinced it really works. Or that it's the best way to find your partner."
Having loved the first book of this series I couldn't wait to read more about the De La Vega brothers and I've got to say that this was an interesting and riveting read, as Xavier finally deals with the past and feeling like he's not good enough to be a part of the De La Vega family because he was adopted and isn't related by blood at all. However, in saying that, he's worked hard to prove himself and make his parents proud. Will he show the entire De La Vega family that he's the right person for his position in the family company?
The way this story started had me loving the heroine's courage, as it takes quite a lot of persistence to get past the hero's secretary to get a meeting with the hero. Then again, what's the harm in a little white lie and I could understand why the heroine would be so desperate because she's there for something important in honoring a promise she made. Will Xavier give her the chance to explain why she needs to see him so desperately? Moreover, the heroine is resilient and I liked how determined she was to honor her promise, even though that isn't easy with the hero believing what happened in the past should stay in the past. I also liked how kind and caring she is, which is proven by what she did for her stepmother in the past.
While the hero, I could understand why he's cautious when it comes to the heroine's presence in his life because his family is worth a lot of money and there's nothing he won't do to protect them in case she's there to cause problems. However, I liked that he gave her a chance because she was close with his biological mother; a woman that he knows next to nothing about, but Jordan is determined to help him get to know. Will Jordan be able to help the hero get closure from his past? I also liked the close relationship he shares with his adoptive family because they will do anything for him, which is proven by how they were willing to fight for him when it comes to the family company and his important role in it.
"I want to be the man who protects you, the man who has your back, the man who stands by your side and accepts he's human and imperfect."
Overall, Ms. Bissell has delivered a really good read in this second book of her Ruthless Billionaire Brothers series where the chemistry between this couple was strong and evident from the moment they meet; the romance showed how good of a connection this pair had; and the ending had me loving the hero's determination to win the heroine back after their relationship went awry. His words are precious, heart-warming and had me crying happy tears, especially once he learnt everything about his birth parents. He owes them so much in bringing Jordan into his life. I would recommend A Mistress A Scandal A Ring by Angela Bissell, if you enjoy the mysterious strangers trope or books by authors Caitlin Crews, Carol Mortimer, Michelle Reid and Penny Jordan.

Book Info:

Publication: July 1st, 2018 | Harlequin Presents | Ruthless Billionaire Brothers #2
His scandalous mistress…
Bound with a vow?
Ruthless billionaire Xavier de la Vega has worked relentlessly to throw off the emotional shackles of his past. Seducing stunning Jordan, with her link to a family he'd rather forget, is a calculated risk—he's convinced their fire will soon burn out! But when their affair is exposed, Xavier can see just one way forward—and it will bind Jordan to him permanently!