Order of Protection by Lexi Blake is book one in the Courting Justice series and is off to a killer start! For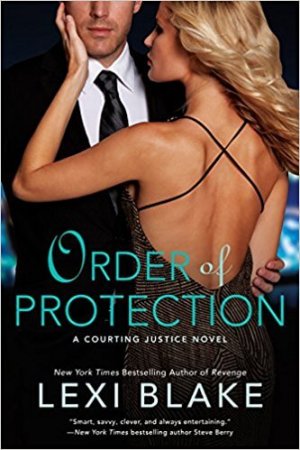 those who love suspense, complicated characters, and sensual romance, this one is for you!
Henry Garrison is a high-end defense attorney going through some issues. He has an alcohol problem and is fresh off a divorce. When Win Hughes falls his way, he can't help but think how opposite she is from his ex-wife and finds solace in her willing body and her heart. But the real world doesn't wait for anybody, so he leaves Win and goes back to work as the Monster of Manhattan.
Win Hughes is actually Taylor-Winston Hughes and she is part of one of the wealthiest families in the country. She is also the miracle child who lived when her parents didn't. To say she's famous is putting it lightly. When Win is accused of murder, it's up to Henry and his team to get her off. But Henry is just learning how full of lies Win is and won't be playing nicely. In fact, Henry is downright rude when all of Win's secrets come to light, but because he was dealing with his own issues, I didn't hold it against him.
The book didn't immediately capture my attention, but the story picks up and keeps you engaged. So, hang in there because it really is a great read! I will also admit that I was totally wrong on who the ultimate bad guy was. Just when you think it's over, the author throws you a curveball and changes it up, which was good because I didn't see any of it coming. I liked the emotional issues revolving around Henry and Win. I also really enjoyed how much I didn't hate Henry's ex-wife. She wasn't good for him, but she wasn't a total witch, either. Overall, a great read filled with many different layers! Looking forward to the next book in the series!

Book Info:

Publication: June 5th 2018 | Berkley | Courting Justice #1
A sexy and suspenseful new contemporary romance from New York Times bestselling author Lexi Blake where love and law entwine for a conviction of the heart.
To high-end defense attorney Henry Garrison, Win Hughes is a woman he met during one of the most trying times of his life. She's soft and warm, and he finds solace in their brief relationship. But Win has a secret. She's actually Taylor Winston-Hughes—born to one of the wealthiest families in the country, orphaned as a child by a tragic accident. Win moves in the wealthiest circles, but her lavish lifestyle hides her pain.
When her best friend is murdered in the midst of a glittering New York gala, Win's charged with the crime, and the only person in the world she wants to see is Henry.
Henry is shocked at the true identity of his lover, but he can't reject the case. This trial could take his new firm into the stratosphere. Still, he's not getting burned by Win again. And yet every turn brings them closer together.
As the case takes a wild turn and Win's entire life is upended, she must look to the people she's closest to in order to find a killer. And Henry must decide between making his case and saving the woman he loves…