A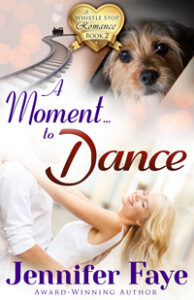 Moment to Dance by Jennifer Faye: Playing with fire might get you burned, but sometimes when you are able to control that fire it might give you just enough heat to make sure you will never be cold again.
Ella Morgan was determined to do things right. She wasn't sure moving to the small town of Whistle Stop was the right thing to do so much as the only thing to do. She was determined to make the best of it though and that best was going to get her through. She wasn't going to cause waves or start any small town rumors. She was going to fix up her grandfathers cabin and teach.
Tony Granger had his life all but uprooted this past year. He had lost his brother, his sister in law, his girlfriend and pretty much everything in his life. He had gained his nephew and a reason to come home again and make his family ranch his home now. The problem was he wasn't sure how to handle everything and make it seem like home and seem real.
When Tony and Ella meet it isn't exactly love or even lust at first sight. They soon learn though that things aren't exactly as they seem and first impressions are seldom right. However between dancing, tutoring and small towns the path to happiness isn't easy and sometimes it just doesn't happen.
This book is part of the Whistle Stop series and while it can be read alone the other characters are further developed before and one can assume after. This story is told in true Faye fashion though which of course means beautifully. It's well rounded, well developed and thoroughly thought through without being overly wordy. This well worth it, especially if you enjoy hunky fireman, lost souls and small towns.
Book Info:

Published April 28th 2015 | Lazy Dazy Press | A Whistle Stop Romance, book #2
Whistle Stop Romance series:
Book 1 – A Moment to Love
Book 2 – A Moment to Dance
~
When trouble strikes…Whistle Stop pulls together
For Ella Morgan, moving to Whistle Stop is a chance to start over, put her horrific past behind her. But now she's living in a mountain cabin–in dire need of renovation–that her grandmother left her, along with a sizable tax bill. Her job teaching school isn't going to cover it. She needs cash, and soon.
Volunteer firefighter Tony Granger has returned to Whistle Stop to run the family ranch and be guardian to his orphaned nephew, Johnny. But being a single parent isn't coming easy, and he's worried sick he won't succeed with his plan to adopt the boy, especially if Johnny's grades don't improve. He needs a break, and fast.
When Ella finds out Tony doesn't have a partner for the Dancing With the Firefighters' benefit–which is offering a large cash prize–and he hits upon hiring her as Johnny's tutor, it looks like their problems might be solved. But taking dance lessons to win the competition sets alight a burning attraction between them. Can they let go and learn to trust again, or will the scars of their pasts still haunt them?