In Mi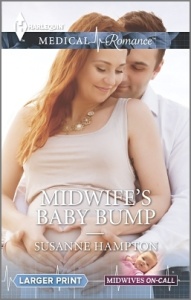 dwife's Baby Bump by Susanne Hampton , Felicia Lawrence or Flick's magical one night stand with gorgeous surgeon Tristan Hamilton was the stuff of dreams. Then, three months later, Tristan's life is turned upside-down when Flick crashes back into his life… with a baby bump!
This is one of those stories where revealing too much will ruin the reader's experience and therefore I will try to keep this as concise as possible.This is definitely one of the best stories in the Midwife on call series.Flick and Tristan are very different persons and they are not ready to have a child but for different reasons.Seeing them overcome their fears and vulnerabilities for the sake of their unborn child was really heartwarming.This is a story of two people trying to work things out and reaching a compromise without doing things they are not sure off like getting married.Though marriage of convenience remains my favorite plot,I was happy they did not choose the conventional way and rather decided to understand each other first.The romance is believable, emotional and enjoyable.It was difficult to not like the story and I would recommend this to everyone who loves medical romance.
Book Info:

Published May 1st 2015 | Harlequin Medical Romances | Midwives on call
One night…
Student midwife Flick has given up on finding "the one," so she certainly doesn't expect to be swept off her feet by gorgeous surgeon Tristan Hamilton at the hospital ball…or for them to end up in bed together!
With consequences!
Three months later Tristan's life is turned upside down when Flick crashes back into his life…with a baby bump!