Rescuing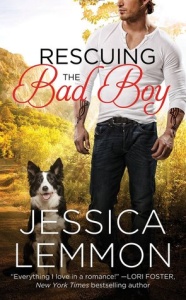 the Bad Boy (Second Chance #2) by Jessica Lemmon: I have love every book that I have ever read by Jessica Lemmon and Rescuing the Bad Boy (Second Chance #2) is no exception to that rule. If you have ever read any of the books by this amazing author you would agree that nobody does a bad boy like Jessica Lemmon
Donovan Pate had a very bad childhood. Growing up with an abusive drunk for a father and a grandmother that ignored what was happening to him, Donovan rand as far away from Evergreen Cove as he could, as fast as he could. But now he is back. Faced with the demons of the past and the memories of Sophie Martin. He loved her years ago, but hurt her, feeling he was unworthy of her then, and still feels unworthy, but his thoughts are flooded with visions of Sophie, and his heart is leading him in a direction that his head is reluctant to follow.
Seven years ago, Donovan broke Sophie's heart, shattered it into a billion little pieces. He is back in town and has hired Sophie to help him with a charity fundraiser that could make or break her career. Sophie tries hard to keep things professional, to keep her heart guarded, not wanting to get it broken again when Donovan heads for the hills. But the longer that these two work together, the more time that they spend together, the more that Donovan begins to break through the walls around Sophie's heart. Sophie realizes that if she and Donovan are going to ever have a future together, that they need to face the demons of the past.
I loved Sophie's character. She is a lot stronger that she might give herself credit for. It is her strength and love for Donovan that finally allows him to make peace with the past and allows them to move forward towards their HEA. I loved Donovan's bad boy character. Yes he was a very bad boy, what he did to Sophie seven years ago broke not only her heart, but it broke mine as a reader. To understand what he went through as a child made me want to wrap him up and take him away from the hurt. But it is his experiences in the past that make him the wonderful bad boy of this story.
If you love a second chance love story with a HOT bad boy and a strong loving good girl, than you will love Rescuing the Bad Boy (Second Chance #2) by Jessica Lemmon.
Book Info:

Published May 26th 2015 | Forever | Rescuing the Bad Boy (Second Chance #2) by Jessica Lemmon
For Donovan Pate, the lake town of Evergreen Cove is a minefield of tough memories—including the day he had to let go of Sofie Martin. Years later, he still can't forget the taste of her lips and the feel of her killer curves. He knows he's too damaged, that he should stay away for her own good. But what the head says and the heart wants are two very different things…
Seven years ago, Donovan broke Sofie's heart. Now her career depends on playing nice in order to pull off the charity fundraiser of the decade. She vows to keep things professional…yet working by his side every day doesn't make it easy to fight temptation, and it isn't long before she finds herself falling for this bad boy all over again. But loving Donovan means helping him face his past–so they can fight for a future together.