A Nanny for the Cowboy by Roxann Delaney  is a sweet and tender page turner that will have you wishing for a cowboy of your own!
Luke Walker is in need of a nanny to care for his young son, Brayden, while he works during the day on his ranch. With the help of his sister he has set up an interview with what he hopes will be the perfect candidate. When a gorgeous woman shows up on his doorstep for the interview, his first reaction is to assume that there is no way that Hayley Books will be suitable for the position. His son however is quite taken with Hayley right away. Despite his first impression, he decides to hire Haley because he desperately needs help.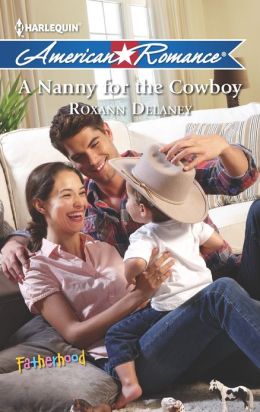 When Hayley goes to her car to get her belongings and comes back with three suitcases, Luke is baffled. When she announces that she thought that the position was for a live in nanny, Luke reluctantly agrees to let her move in. Luke has been hurt in the past and he is not really looking for any kind of a relationship, but as Hayley grows closer to both him and his son, he can't help but begin to fall for her.
Haley is an RN who is going to school to get her master's degree; she has her sights set on becoming a physicians assistant. She desperately needs money to help pay for her student loans, as well as a place to stay. Becoming a nanny for Luke is the perfect solution for Hayley. It isn't long before Brayden works his way into Hayley's heart, and Luke is starting to find a special place there as well. Hayley tries hard to fight her growing attraction to Luke but sometimes love just won't be denied. Will Hayley and Luke be able to find a happy ending together and become a true family?
Roxann Delaney has written a heartwarming and emotionally taut story. Readers will fall in love with the charming characters and cheer them on as they search to find the love that they truly deserve. This is family romance at its best!
Book Description
Publication Date: March 5, 2013 | Series: Harlequin American Romance (Book 1444)
Desperately Seeking A Sitter
Who knew hiring a nanny could get so complicated? Rancher Luke Walker has been caring for his two-year-old son single-handedly ever since his wife walked out, and he sure could use some help. But when he thought to find a nanny, he didn't have someone like gorgeous Hayley Brooks in mind. And he certainly didn't expect her to move into the ranch house!
Hayley is working toward being a physician assistant and needs to save money for her classes—and to save on rent by boarding with her employer. She's delighted that little Brayden warms to her quickly, but is wary of her growing feelings for Luke. It's a struggle keeping things professional…. Falling in love with her boss was not part of the job description!