In A Nantucket Wedding by Nancy Thayer, A summer wedding on the lovely island of Nantucket is just the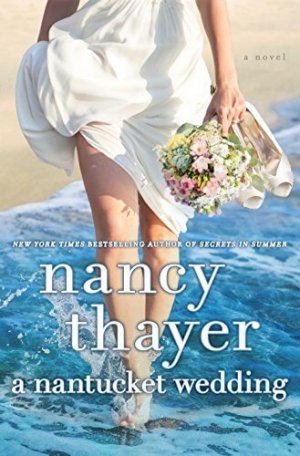 way Alison wants to start off her marriage with the man of her dreams. She's so thankful to have a new chance at love, something she never dared hope for since losing her husband a few years ago. Something her fiancé David understands all too well, having also lost his wife years ago. But now Alison is focused on the future. And a big part of that will be getting their grown children and their young grandchildren under one roof together. She and David are trying to be realistic, knowing there will be some awkward moments and issues to get past. But they should all be able to act like adults, right?
'The whole idea of coming to the Nantucket house as often as possible in the summer was to gradually knit her family with David's.'
So many people with drastically different personalities all under one beautiful summer house's roof proves to be extremely complex. And tough for Alison to navigate. She doesn't want to dote too much on her own daughters–Jane and Felicity–and grandkids, leaving David's son, Ethan, daughter Poppy, and grandkids out of the loop. But with a weird current of attraction running between Jane and Ethan, Poppy trying to change Alison's wedding plans, Felicity worried about the future of her marriage with Noah, and the normal daily bickering of the grandkids, Alison can't wait to get the wedding underway. And hopefully once the excitement and jitters over their big day are behind them, they can sail on down the bay in wedded bliss.
'Alison had come to believe, a normal life had its ups and downs, its sadnesses and its joys. And marriage certainly had its seasons. Often, you had to make the sunshine yourself.'
What better setting for a wedding celebration than the picturesque island of Nantucket. Nancy Thayer's latest novel focused on the island in all its glory as well as the converging of two families, bringing all sorts of drama to their already complicated lives.
'Did he not care at all that he was trying to seduce a married woman?'
Trigger warning: Infidelity.
Nancy Thayer's books are always filled with beautiful descriptions, both of the setting and of the emotions her characters go through. And where there were two families well set in their own ways merging together here, oh the issues they all faced. You would think that Alison and David's children being grown adults would have made things slightly easier for everyone involved but unfortunately, not so much. And for readers sensitive to cheating, this was where that tangled web began, when all of the couples assembled on the island and their unhappiness in their own personal lives came out. The infidelity did bug me a bit as I'm not a fan of that or even heavy flirting when someone is in a committed relationship–which took this from a 4 to a 3.5 star rating for me. But the rest of the storyline was interesting and held my attention enough to gloss over it for the most part.
As you would expect, the family dynamics were something else. I liked how Alison wanted to have a magical summer to feel close to her grown daughters again, and it was fun to see how they had changed since they were younger and how well they got along as adults. David and his adult children–and I say the word children on purpose–well, they were quite different from Alison's daughters. Not that one family was better than the other. But David's son and daughter added a lot of tension to the works and made me wonder how the families would ever be able to mesh together comfortably. (It *did* all work out!)
A Nantucket Wedding will be the perfect story for beachgoers as well as for those waiting with bated breath for warm weather to arrive. (Like those of us in the Northeastern U.S.!) There was enough sand & surf, sun & fun, ups & downs to brighten any reader's day.
Book Info:

Publication: Published April 3rd 2018 | Ballantine Books |
Wedding bells are ringing, a family is reunited, and new love is blooming—for better or worse—in this captivating novel from the New York Times bestselling author of The Island House and Secrets in Summer.
A few years after losing her beloved husband, Alison is doing something she never thought she would do again: getting married. While placing the finishing touches on her summer nuptials, Alison is anxious to introduce her fiancé, David, to her grown daughters: Felicity, a worried married mother of two, and Jane, also married but focused on her career. The sisters have a somewhat distant relationship and Alison hopes that the wedding and the weeks leading up to the ceremony will give the siblings a chance to reconnect, as well as meet and get to know David's grown children.
As the summer progresses, it is anything but smooth sailing. Felicity stumbles upon a terrible secret that could shatter her carefully cultivated world. Jane finds herself under the spell of her soon-to-be stepbrother, Ethan, who is as charming as he is mysterious. And even Alison is surprised (and slightly alarmed) by her new blended family. Revelations, intrigue, resentments—as the Big Day approaches, will the promise of bliss be a bust?
Against the gorgeous backdrop of the sunswept island of Nantucket, Nancy Thayer sets the stage for a walk down the aisle no one will ever forget.