A Paramedic To Change Her Life by Alison Roberts: Dr. Jo Bishop has had a rewarding career as an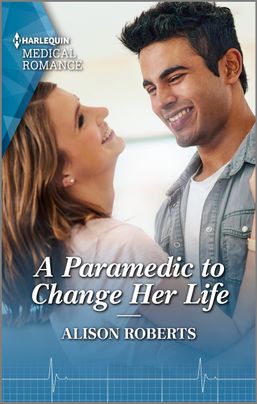 emergency doctor in New Zealand for a good many years. When it didn't appear that her dream of getting married and having children was going to happen, she had her eggs frozen when she was in her late thirties. She is now forty-six and she knows she her hopes of getting pregnant are narrowing by the day. She will have to find a sperm donor soon.
When she is out on a trauma call, she meets paramedic Cade Cameron. He is excellent at his job and they work well to assess the situation and save a young woman from having to have an amputation. Not only is Cade skilled at his job, he is very handsome. When Jo finds out Cade is nine years her junior, she is afraid they can only be close co-workers.
Cade has traveled all over the world in his job. He is afraid of setting down. He does see Jo as very attractive and easy to work and talk with. At first, he doesn't know about the age difference. Will it make a difference to him?
A Paramedic To Change Her Life is by far the best Harlequin Medical Romance that I have read to date! First of all the research the author for this book is incredibly impressive. With a fair number of hospital and medical shows in recent years, the average reader is fairly knowledgeable about procedures.The author brings authenticity and suspense to so many scenes.
The backgrounds of the heroine and hero are slowly revealed, which I truly love. That keeps me turning the pages to find out more. The reader is able to understand the events that Cade has hidden and have made him a wanderer.
The love story is built up slowly, but surely with just the right amount of passion and tenderness. The location is interesting to me since I know little about New Zealand, other than their seasons are opposite from the Northern Hemisphere.
This novel will tug at your heartstrings and give you hope in miracles. All romance readers need to grab a copy of this terrific tale ASAP.
Book Info:

Publication: June 28, 2022 | Harlequin Medical Romance |
In the latest Harlequin Medical Romance from Alison Roberts, a doctor falls for a paramedic just as she's decided to have a baby—alone!
Taking a risk…
For the miracle of a baby!
Dr. Jo has always wanted a family but never found the right man or the right time. Now, on the eve of her forty-sixth birthday, she decides to make her dream a reality—alone. But when fearless paramedic Cade bursts into her life, she falls headfirst and offtrack! Cade has been running from his heartache and grief, but could Jo and her desire to have a family be just what he needs, too?