In Flying Solo by Linda Holmes, Laurie Sassalyn hoped the next time she visited her hometown of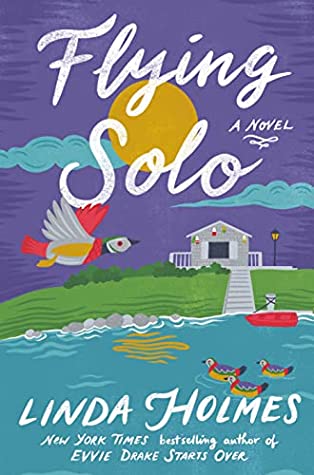 Calcasset, Maine would be for a happy occasion. Not for her beloved great-aunt Dot's passing. But as she treks across the country, from Seattle to Maine, she wonders if maybe it will help her put her life a little bit more in perspective. Especially since Laurie's not only stressing about her upcoming fortieth birthday, but she's also still thinking about the wedding she cancelled a year ago. Being back in Calcasset ends up being…nice. Filled with people she knew and cared for growing up, Laurie is welcomed back as she sifts through her aunt's belongings, remembering the spirited woman who always gave her a safe place to land when things got tough.
"I heard you saw Nick."
"For heaven's sake, where did you hear that? Who is talking about this?"
"I heard it from Mom, and I think Scott had a text from one of Nick's cousins."
"There are way too many people in this town for a town with so few people in it."
Laurie's first love, Nick Cooper, also welcomes her back with open arms. Their chemistry is still just as strong as ever but their struggles are also still the same–Nick is firmly entrenched in Calcasset, now as the head librarian, while Laurie's comfy home in Seattle calls to her. As she discovers more about her aunt's exciting life and even uncovers a mysterious wooden duck decoy that has her scrambling for answers, Laurie begins to wonder if she could possibly have her career as a nature journalist, have her own home as she wants it, and still have a wonderful romance to sweep her away. If her aunt could make her solo lifestyle work for her into her early nineties, then surely Laurie can try as well, right?
'And more than twenty years after the last time it had happened, it felt exactly like kissing him when he was sixteen and also nothing like it at all. It was familiar and totally foreign.'
Flying Solo, Linda Holmes' second novel, was simply a pleasure to read. Set in a tiny, picturesque town in Maine, the loss of a beloved family member leads to secrets, a bit of a mystery involving a wooden duck, and even the hope of rekindling a former romance.
"How are things at Dot's, my love?'
To her own surprise, for the briefest moment, Laurie thought she might burst into tears…
"I'm doing my best," she said… "I'm afraid I'm going to miss something important that my mom or my aunt would want. I don't know if it's enough, what I'm doing, but I'm really trying."
Told from our heroine Laurie's POV, Flying Solo was part women's fiction and part contemporary romance. But it was *all* heart. I loved that Holmes set this in her fictional town of Calcasset, Maine again, just like in Evvie Drake Starts Over–particularly since I've lived in the area she wrote about all my life. Laurie's trip back to her hometown to take care of her lovely Aunt Dot's estate was eye-opening in many ways. Having lived clear across the country in Seattle for about fifteen years meant that she saw Calcasset and all of its inhabitants through a totally new lens. Including things Laurie didn't even know she missed. Like her ex-flame Nick.
Laurie and Nick's reunion was filled with heat, humor, and yet it was a touch bittersweet. To me, it seemed like their attraction was never in question–even when they were in college. It was the logistics of where they would settle down in life, whether it would be Calcasset or some other area of the country, that was the rift between them. I can understand Laurie wanting to explore the world, especially being a nature journalist. And I understood Nick's ties to their hometown and the library his folks painstakingly cared for over the years. I think some readers will find Laurie's views on relationships and the way she pushed so hard for her independence to be a bit much. It was to me at times. But looking at her raucous family growing up, with how little peace and time she had for herself, Laurie's longing for a quiet but fulfilling life makes sense.
Something worth noting: while Flying Solo didn't have a traditional HEA (think: One Night on the Island by Josie Silver) the ending was befitting of Laurie, Nick, and the whole Calcasset gang. I think readers will have a grand time laughing over the small town antics–including a mini-heist and some sleuth work, all related to Dot's duck–and will sigh happily over the nostalgia Laurie's trip home brought to everyone involved.
QOTD: Have you been back to your childhood hometown as an adult? Did it seem different than when you were young? Or if you still live in the same area, has it changed over the years?
Book Info:

Publication: Published June 14th 2022 | Ballantine |
A woman returns to her small Maine hometown, uncovering family secrets that take her on a journey of self-discovery and new love, in this warm and charming novel from the New York Times best-selling author of Evvie Drake Starts Over.
Smarting from her recently cancelled wedding and about to turn 40, Laurie Sassalyn returns to her Maine hometown of Calcasset to handle the estate of her great-aunt Dot, a spirited adventurer who lived to be 90. Along with boxes of Polaroids and pottery, a mysterious wooden duck shows up at the bottom of a cedar chest. Laurie's curiosity is piqued, especially after she finds a love letter to the never-married Dot that ends with the line, "And anyway, if you're ever desperate, there are always ducks, darling."
Laurie is told that the duck has no financial value. But after it disappears under suspicious circumstances, she feels compelled to figure out why anyone would steal a wooden duck — and why Dot kept it hidden away in the first place. Suddenly Laurie finds herself swept up in a righteous caper that has her negotiating with antiques dealers and con artists, going on after-hours dates at the local library, and reconnecting with her oldest friend and first love. Desperate to uncover her great-aunt's secrets, Laurie must reckon with her past, her future, and ultimately embrace her own vision of flying solo.