In A Perfect Lie by Lisa Renee Jones , Hailey Anne Monroe is more well known as the daughter of the future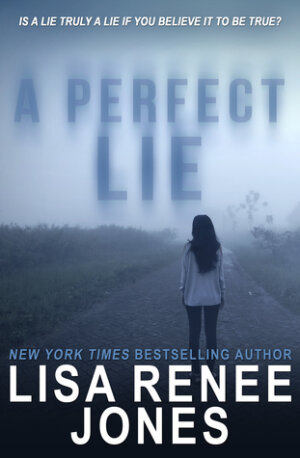 President of the United States than for any of her own merits. Told to act a certain way, dress in particular clothes, and to never, ever cause a scandal, life under her father Thomas Frank Monroe's watchful eye has been anything but happy. The only happiness Hailey has ever known, her loving mother and painting on canvas, was ripped away from her while she was in her teens. And things somehow went even more downhill after that tragic loss, with her father treating her even worse.
'Everyone in my world has an agenda, and I am but a mere token, being played in games I too often, unwittingly enter.'
Once Hailey hits her late twenties, her father's bid for the Presidency ramps up. And through a series of unfortunate events, some of which are deadly, she begins to learn about her own capabilities and strengths. As well as the truth behind her father's controlling ways. When Hailey is sent into hiding while a scandal is dealt with by her father's team, she becomes determined to find out the truth. Even if it has her running for her life and making bargains and alliances she never dreamed she'd have to make.
'Some doors are better left shut. Ironically though, when a door is shut, it's pure human nature to want to open it, even if we need a crowbar to make it happen.'
Lisa Renee Jones is known for her steamy, complex novels with larger than life characters and their seductive relationships. But A Perfect Lie was a whole new level of complicated. A psychological thriller that will have your mind racing with its twists and turns and that will leave you breathless, I had a very difficult time putting this intriguing story down.
'If a lie is a perfect lie, the kind that is undetectable to the human eyes, does it even count? Perhaps not unless you make a mistake and it's exposed.'
This might be a new genre and style of writing for Lisa Renee Jones, but it certainly had all of the things I have come to adore about her work. We only had one POV here: our heroine Hailey's narration, which even she told us at times may or may not be truthful. Meaning we had a potentially "unreliable narrator" and had to figure things out as we went. Through it all, though, were the intense emotions, soul-searching, and dramatics that works so well for Jones. We got to see through the flashbacks what tragedies Hailey had to overcome. And how she worked through each situation, her feelings about what happened, and what her beliefs were along each step she took. Boy did it make me question everyone around her. I do mean *everyone*. Which of course made this thriller even more exciting, to not know exactly who was involved–or *how* they were involved.
Overall I liked Hailey. She made some decisions I couldn't always agree with and she waffled between being strong and brave to spoiled and a tad childish at times. Although there was one decision she made regarding her best friend that I thought people were too harsh to her about… But given everything she went through in her life, being under her father's thumb and always having to behave a certain way, I could see why she acted as she did. There were a couple of people around Hailey that I knew right away were not trustworthy, but Jones threw me for six with some of the revelations about them along the way. I think it's safe to say that the only person Hailey could truly trust was herself. A sad statement of facts that even she admitted during her narration of this journey.
Fast-paced, captivating and with an explosive ending I'm still working through emotionally and mentally, A Perfect Lie will be a book to savor over and over again. And I have a feeling the more times you read this, the more subtle details you will find. You can't ask for much more in a psychological thriller than that, right?
Book Info:

Publication: May 14th 2019 | by Julie Patra Publishing |
They say that you are not a product of the environment that you've grown up in, that you create your own story, tell it your way. That you get to pick your own future. They lied. If you're honest with yourself, you believed that lie, too, like I used to, because I wanted to, and even needed to believe that I had some semblance of control over my own self. The truth is that control is part of the lie. The ability to become a person of our own making is the perfect lie. I concede that it might appear that some people control their destiny, but I assure you, if you gave me fifteen minutes, I could pull apart that façade. We are born into a destiny that we never have the chance to escape. That's why I must tell my story. For those of you out there like me who were told that you have choices, when you never had one single choice that was your own. For those of you out there who were, who are, judged for decisions you've made that were directed by your destiny, not by the façade of choices. The irony of the story within this story is how one person's predisposed destiny can impact, influence, and even change the lives of those around him or her. How one destiny ties to another destiny.
I am Hailey Anne Monroe. I'm twenty-eight years old. An artist, who found her muse on the canvas because I wasn't allowed to have friends or even keep a journal. And yes, if you haven't guessed by now, I'm that Hailey Anne Monroe, daughter to Thomas Frank Monroe, the man who was a half-percentage point from becoming President of the United States. If you were able to ask him, he'd probably tell you that I was the half point. But you can't ask him, and he can't tell you. He's dead. They're all dead and now I can speak.