A Ranch to Come Home to by Marie Ferrarella is an unforgettable story. The town of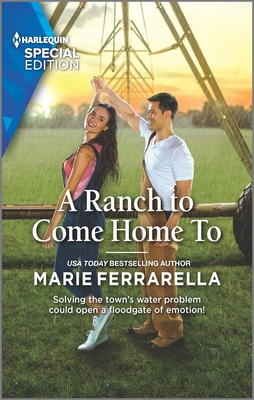 Forever, Texas is experiencing a terrible drought. Alan White Eagle, who spent the summers of his childhood and teenage years in Forever, has become an engineer who has found the solution to solve the problem of the lack of water in the place and has returned to start his idea, with the help of some engineering friends. Only when he returns he will have to deal with the oldest of the Roberston triplets, Raegan, who doesn't have fond memories of Alan. But it's been nine years since Alan's last stay in Forever, and they're not the same people from the past.
While working together to complete the project, Alan and Raegan discover fascinating things about each other and little by little, the former cat and dog fight between them turns into an unexpected romance; the begin to have completely different feelings than the mutual animosity they felt. However, will Alan go away when the project is finished, or will he and Raegan have their happily ever after?
The love story unfolds slowly, but at a constant and fluid pace. From enemies they become lovers and fall in love. There are no major traumas or melodramatic situations in their past, except for the abandonment of Alan's parents, which did not leave painful traces in him. Also, he considers Forever (where his cousins ​​live, whom he is attached to) as his home. Reagan and Alan have known each other since they were children, so it isn't love at first sight, but, in turn, when they meet again they must not only leave behind the mistakes of the past but really get to know each other again. It's here where chemistry, which is pure high voltage, and love do their thing.
The most exciting thing about this book is how the author knows how to create a splendid setting that makes you get involved in the daily lives of the inhabitants of Forever. The secondary characters, from Raegan's family to Miss Joan, the most respected woman in town and to whom no one dares to say no (I LOVED this character!), are the greatest success of this story, which makes you laugh while you have deep emotions in its pages.
She hadn't read a book by Ms. Ferrarella in about ten years or so. In fact, one of her stories is my second favorite Harlequin book of all time. This book reminded me why I love this writer—and I wonder why it took me so long to read her again… Her impeccable way of telling stories and creating a picturesque yet simple setting is worthy of being one of the favorite authors of Harlequin Special Edition. My only complaint? There's no epilogue, an this book REALLY needed one.
Book Info:

Publication: April 26, 2022 | Harlequin Special Edition | Forever, Texas #24
Solving the town's water problem could open a floodgate of emotion in USA TODAY bestselling author Marie Ferrarella's lastest Forever, Texas romance!
He said "I do" to saving the town
Will he say the same about staying there?
Alan White Eagle hasn't returned to Forever, Texas, since he left for college eight years ago. But when a lingering drought threatens the town's existence, the irrigation engineer vows to help. An unlikely ally appears in the form of his childhood nemesis, the headstrong, intelligent and beautiful Raegan. In fact, their attraction is challenging Alan's anti-romance workaholic facade. Will Alan's plan to save Forever's future end with a future with Raegan?
From Harlequin Special Edition: Believe in love. Overcome obstacles. Find happiness.
Forever, Texas
Book 1: Ramona and the Renegade
Book 2: The Doctor's Forever Family
Book 3: Lassoing the Deputy
Book 4: A Forever Christmas
Book 5: His Forever Valentine
Book 6: A Small Town Thanksgiving
Book 7: The Cowboy's Christmas Surprise
Book 8: Her Forever Cowboy
Book 9: Cowboy for Hire
Book 10: Christmas Cowboy Duet
Book 11: The Cowboy and the Lady
Book 12: Her Mistletoe Cowboy
Book 13: The Cowboy and the Baby
Book 14: The Rancher and the Baby
Book 15: Twins on the Doorstep
Book 16: A Baby for Christmas
Book 17: The Cowboy's Lesson in Love
Book 18: The Lawman's Romance Lesson
Book 19: Her Right-Hand Cowboy
Book 20: Secrets of Forever
Book 21: The Best Man in Texas
Book 22: A Ranch to Come Home To