The Billionaire's Guide to the Marriage Deal by Piper Marlowe: For Easton Taylor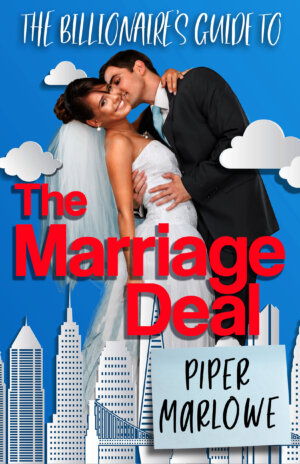 his families company is more than just a business, its a legacy that his grandparents worked so hard to make a success but times are changing and so is the way business is conducted, if only his grandmother would also change her approach to making new deals, which is why Easton is so determined to take his spot as the new CEO of Taylor Corporation.
Too bad his grandmother Sofia is not quite ready to hand over the reins just yet… well that is unless Easton proves that he is ready to settle down. And what better way to prove that he is ready to settle down then get married? Well fake married really. Which is how Easton finds himself married to feisty grad student Phoebe and playing the role of stepdad to one rude cat named Roger. All he needs to do now is fake it with Phoebe for one year and he should be golden, well first he needs to make sure he doesn't fall in love with his wife…
Piper Marlowe is just brilliant, I absolutely ate up Phoebe and Easton's hilariously cute fake turned real romcom. This book was a hoot from start to end, with so much of promise for secondary characters books! I just loved that this book was packed with steamy flirty banter, one powerhouse grandmother and a hero that just got bowled over by love.
Phoebe was such a blast, I loved her no nonsense attitude and the way she just made herself at home in Easton's apartment and life. The chemistry between these two characters was just amazing, I just loved the way they both danced around their feelings for each other only to fall more and more in love. I just loved her passion for flash cards and how they played the ultimate swoon moment in their story.
As for our billionaire hottie hero Easton, well this guy just stole my heart! I loved that Easton started this entire charade in order to help save the family business. His love and devotion for his family and the legacy that his grandparents created just made his character all the more lovable. The banter and bromance he had going on with his two besties was just hilarious, I loved the way they goaded him, this is only going to make reading their books all the more perfect!
I just loved getting to see Easton and Phoebe fall in love and the way they played off each other with all that steamy flirty banter. Good gosh was this a steamy read! Even before these two got it on they were burning up the pages! If you are looking for one hot kinky couple then this book is a definite must. As for our furry baby Roger, well lets just say this cat brought the cute factor, I just loved that he even managed to worm his way into Easton's heart.
This steamy cute fake turned real romance is a definite must read! I absolutely can not wait to see what Marlowe has planned for with the rest of this season!
Book Info:

Publication: April 28, 2022 | Pub: Piper Marlowe |
When my grandparents founded the Taylor Corporation, it was to make life better for generations to come.
But Grandma Sofia doesn't think said generations are trustworthy enough to take over.
"Get married and prove you have a eye to the future," she said.
"It'll be easy," she said.
But easy is not exactly the word I'd use to describe the new Mrs. Easton Taylor. Phoebe makes flashcards for fun. She's mouthy, sexy, and uninhibited. Worst of all, I'm now stepfather to a cat named Roger.
Some would call it a marriage of convenience.
But what I got into is more of a convenience store arrangement… an overpriced, fast, knockoff version of the real thing.
So why do I keep imagining something more real with my fake wife?