In A Reckless Note (Brilliance Trilogy #1) by Lisa Renee Jones, Aria Alard's family has been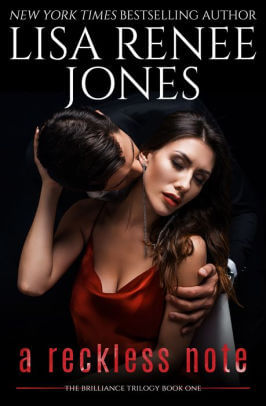 mixed up in a world of secrets, music, and subterfuge for as long as she can remember. And it has taken a devastating toll on them. Now her brother Gio is thought to be missing–and it could very well mean he is in serious trouble. Aria's hunt for answers leads her to Riptide, an auction house in NYC where she encounters one of the most enigmatic, charming men she's ever met: violin prodigy Kace August. Their attraction is instant. But as they slowly begin to explore their intense chemistry, Aria isn't so sure that the secrets they are both holding close will allow them any hope for a lasting relationship.
"Once you go upstairs with me," he says, his voice low and rough, for my ears only, "you're all mine. And I don't promise to be a gentleman about it."
Leave it to Lisa Renee Jones to incorporate music and mystery into a sensual romance–and to do so in a way that will leave you breathless. A Reckless Note, book one in her exciting new Brilliance Trilogy, had all of the passion, drama, and plot twists I crave in Jones's novels.
'I know you feel that I've become your "reckless note" in the never-ending pursuit of a story you cannot leave without a proper ending. But that's just it. I'm part of this story now. I'm part of your story.'
What a compelling novel! Having read several of her books already, I certainly expect a lot from LRJ's romances. But A Reckless Note honestly took things up a notch. It didn't have an element of suspense like the Savage Trilogy or some of her others, but there was an interesting thread of mystery in regard to Aria's family history, her brother Gio being (possibly) missing, and what Kace was hiding from Aria. And for an added bonus, fans might notice along the way that characters from LRJ's other books pop in here and there, which was great.
As lovely as the storytelling was, for me it's always about the characters in a LRJ novel. And she didn't disappoint with Kace or Aria–or the secondary cast. Our hero and heroine both had tragedy touch their families in the past, something that still haunted them at present. I must say, though, that it was a lot of fun to watch Aria and Kace dance around each other. Neither of them were very trusting individuals. So for them to slowly take a chance on getting to know each other better and be vulnerable, that was a true testament to how deeply their attraction and interest ran.
Note: As LRJ fans probably already guessed, this first book in the trilogy left off with a cliffhanger right at a pivotal moment. Book two, A Wicked Song, is expected to be out mid-August 2020, and the conclusion, A Sinful Encore, in late September 2020.
Whether you're already a fan or new to Lisa Renee Jones's work, A Reckless Note will undoubtedly get your heart pumping and your imagination running wild. I simply cannot wait to see what she has for us next in Kace and Aria's incredible journey.
Book Info:

Publication: June 23rd 2020 | Julie Patra Publishing | Brilliance Trilogy #1
Passion, seduction, and my family's secret that could change everything. I went looking for my missing brother, but instead, I found him: Kace August. He's dark. He's dangerous. He makes me want things I can't have and brings me into a world of forbidden seduction. But I just can't seem to walk away.
Book one in the Brilliance Trilogy.