Revelations of His Runaway Bride by Kali Anthony is an exciting and passionate marriage of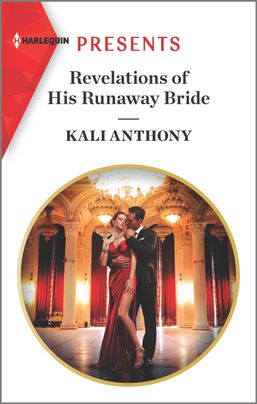 convenience romance.
Thea Lambros doesn't want to marry Christo Callas but her controlling father has forced her into marriage by threatening her half-brother. Planning to escape right after the wedding with the help of her best friend, she's caught by her new husband in the act. And he's not about to let her go.
Christo never wanted this marriage but his father had put him in a bind, borrowing money from Thea's father's bank until they were so far in debt that the only way out was for Christo to marry Thea to stop impending foreclosures. Christo will do whatever it takes to save his family's company, Atlas Shipping. He's not about to let his new bride slip through his fingers before the company is back on solid footing. Christo's father's will says he has to be married to inherit the company and with his father terminally ill, a year of marriage will be long enough to secure his fortunes. Can their forced marriage lead to a real happy ever after?
I enjoyed this debut romance by new author Kali Anthony! It's got all the hallmarks of a classic Harlequin Presents novel, with drama, passion and compelling characters. Thea realizes soon that leaving the prison of her childhood for Christo's luxurious home is not so bad after all, as Christo, while insisting on keeping their marriage intact, treats her with respect. He doesn't insist on intimacy though he does find Thea attractive, but lets her get comfortable with him and their slow burn romance soon leads to some passionate scenes.
Both characters are wary of trust and love. Christo grew up with a harsh father too, though he wasn't as bad as Thea's father and brother Dominic. Thea's mother died without being able to rescue her from her father, so with Christo, Thea actually does get more freedom. She worries about her half brother Alexis but doesn't trust Christo at first to help her find him. It takes some time for both of them to open up to each other, and eventually their trust leads to deeper feelings. Their path to happiness goes through some turbulent times but their happy ending is worth the struggle and there is a lovely epilogue to round out the story. It's an entertaining and passionate romance and I'll definitely be looking for more from this author in the future!
Book Info:

Publication: June 16, 2020 | Harlequin Presents |
She was ready to flee
Then passion beckoned.
From the moment Thea Lambros is forced to walk down the aisle toward Christo Callas, her only thought is escape. After all, this reluctant bride is a mere pawn in her father's dangerous game.
But when coolly brilliant Christo interrupts her getaway, Thea meets her electrifying match. Pairing her resilient spirit with his unwavering strength, her new husband unleashes an unexpected fire within her. Thea feared she was trading one jailer for another. But what if Christo is the man to finally set this caged bird free?