Hold Me Down Hard by Cathryn Fox: Eden and Jay have known each other for a few years. She is an actress and he is a police officer. They are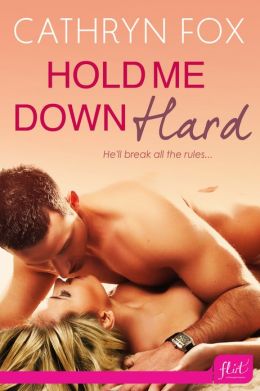 next door neighbors, best friends and work in NYC. Both have secretly lusted after each other and until recently, have done nothing about exploring their feelings for one another.
Since their relationship is strictly platonic, Jay has no idea that Eden likes it rough and has many fetishes. He thinks she is sexy, but sweet. They spend a lot of time together, but never talk about anything emotional or truly intense. Finally, Eden decides to make a move.
Eden coaxes Jay into rehearsing a scene with her. Unbeknownst to Jay, Eden wrote the sexy scene, in hopes of moving their relationship to the next level and showing him how "seductive" she really is.
Wow, what a well written, quick read. This novella is hot, hot and hot! Hold Me Down Hard by Cathryn Fox is a sexy story with a solid plot. The seduction works and their new relationship is pure steam. I look forward to reading more from this author!
Book Info
Publisher: Entangled: Flirt (May 13, 2013)
When Eden Carver, Iowa farm girl turned NY actress, decides to seduce the sexy cop next door, she begins to wonder if she's bitten off more than she can chew.
The last thing Officer Jay Bennett wants is to cross a line with the sweet and innocent country girl—no matter how much he'd like to help himself to a nibble. Not only are they in the friendship zone, a naïve girl like Eden doesn't belong in his dangerous world.
But when she asks him to help her rehearse lines, and things go from simmer to boil, he finds himself doing the one thing he swore he'd never do.He knows he needs to walk away from temptation, but when sweet little Eden bites back, it tilts his world on its axis.
Because biting back changes everything.