In A Ring to Claim his Legacy by Rachael Thomas, Marco Silviano needed time away from his family to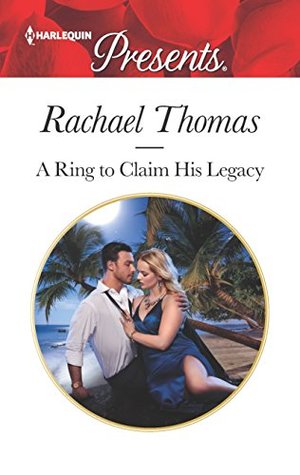 sort things through. Meeting Imogen while on vacation was something he'd never forget, but he never imagined seeing her again. Yet, when he learns she's pregnant with his baby, he persuades her to become engaged to him to secure his family's empire after discovering something about himself that made him realize why things are so strained between him and his father. Will Marco and Imogen have a shot at a future together or will Imogen walk away for fear of getting hurt?
"I don't want or expect anything from you."
"When I walked into the office you and Julie were talking – she was saying you had to tell me. You must have wanted something from me?"
"You don't know me at all if you think that." Sadness filled her voice. "I wanted you to know for the baby's sake. It's important to me that my child knows who his or her father is because family is everything. It's why I agreed to come here in the first place."
"Then I must convince you that staying here in New York as my wife will be the best way to do that."
I've read a couple of books by Ms. Thomas and enjoy her style of writing and I've got to say that I loved the way this story started, as the hero needs the time away he's taking because dealing with things that he's learnt about his life and dealing with his family has taken an emotional toll. Will the time away be just what he needs to be able to get over the blows he's been dealt? However, it was from the moment the hero and heroine come face-to-face for the first time where this story really gets interesting, as Marco is confident, charming and all the pair want to do is have a good time.
"Two weeks?"
"Yes. I will be your fiancée for two weeks and then I will return to England."
Marco looked at her, the darkness of his eyes fixed on her face. "I will convince you that marriage is for the best, Imogen. That raising our child, here, together, is the only way."
As for the dialogue, it was intense due to the main characters back stories and everything this couple go through on their journey to happy ever after, as Marco has never felt like he's good enough because of the way his father has treated him, which is understandable considering things that he discovers about the past. Will he be able to forgive his mother? Moreover, I really liked the heroine. She's selfless in the way she's willing to help the heroine because family is important. Will she be able to help Marco's family heal from the hurts of the past? I also thought the heroine was resilient, courageous and I liked the wonderful friendship she had with her best friend because the woman believes the best thing for Imogen is to be is honest with Marco when it comes to her pregnancy. Really, Imogen needs the push her best friend gives her.
While the hero, he's been through a lot and I could understand why he's so determined to convince the heroine that their child deserves a mother and father in their lives at all times instead of going from one to the other. Will he be able to convince Imogen that he's right? Will a baby bring hope for his family and bring them closer together like he hopes? Will their child secure the family empire? However, he's not as charming this time around when he and the heroine come face-to-face again. Really, he's more ruthless and determined than ever.
"You are very bad, Imogen Silviano, tempting a man away from his guests like that."
Imogen smiled coyly at him. "Just one night. You, me, the moon and the stars and the sound of the ocean."
He pulled her into his arms, his heart swelling with love for her. "How can I resist such an offer?"
Overall, Ms. Thomas has delivered an enjoyable read in this book where the chemistry between this couple was strong from the moment they meet, but gets stronger the more these two interact; the romance was delightful and had me loving that these two took a chance on each other because Marco needs Imogen so much to heal from the hurts of his past; and the ending had me loving the hero's determination to make things right with the heroine, especially after how their relationship goes awry. I would recommend A Ring to Claim his Legacy by Rachael Thomas, if you enjoy the fake relationship trope, the surprise pregnancy trope or books by authors Jennie Lucas, Carol Marinelli, Caitlin Crews and Annie West.

Book Info:

Publication: November 1st, 2018 | Harlequin Presents |
Demanding his baby…And his fiancée!
Tycoon Marco Silviano can't forget the mysterious woman he spent an incredible week with on a luxurious island. Coming face-to-face with Imogen in England is shocking—especially when he learns she's expecting his baby! Convinced their child will secure his family's dynasty, Marco is intent on persuading Imogen to wear his ring. But once they're engaged, their burning desire and Imogen's warmhearted allure test Marco's control to the limit…