Lawson by Diana Gardin is the first book in the Delta Squad series. Indigo is a police officer known not to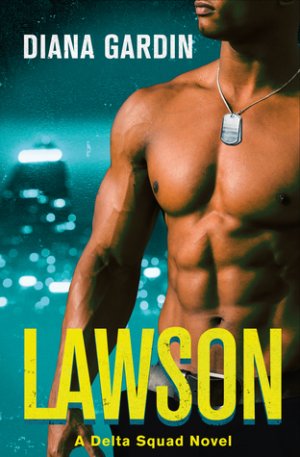 follow the rules. Lawson is a former SEAL now working for Night Eagle Security, who has anger issues when it comes to men abusing women. When Night Eagle Security teams up with the police force to stop a car theft ring, Indigo and Lawson are partnered up to infiltrate the ring.
Sparks fly from the get go, as Indigo is independent and Lawson is protective. They both drive each other crazy but have no choice but to trust one another and their instincts as they work their way into the car theft ring.
The author nicely blends the romance and the suspense, with neither overshadowing the other. Readers are introduced to other members of the Delta Squad, but it's done in a way where readers won't feel overwhelmed by all the characters.
What seems to be a simple car theft ring actually has a twist which is most likely going to carry on to other books in the series. I'm looking forward to seeing how that turns out and how it will effect a potential relationship between one of Lawson's teammates and one of Indigo's friends.
This was a great start to the new series, and I can't wait to see what happens with the rest of the team and how the storyline with Eli Ward, the mastermind of the crimes, concludes. Fast-paced with plenty of action and romance, readers will be kept entertained to the very end. Readers of romantic suspense should consider adding this to their to-be-read lists.
Book Info:

Publication: October 23, 2018 | Forever Yours | Delta Squad #1
I'm a natural protector, whether I'm guarding political big shots or celebrity VIPs. It's true that I failed – once. When I was a SEAL, when it mattered most. But that's never going to happen again. Especially not during my first op with Night Eagle Security. So if there's one thing my new partner, Indigo Stone, should know, it's that she's safe in my hands….
Not that she wants my help. With amber eyes full of intelligence and a body covered in ink, Indigo is one of the toughest people I've ever met. But this job has us deep undercover, playing car thieves and lovers, and we'll have to become pros at faking it. But when feelings turn real, I'm reminded that emotions are dangerous… especially when one wrong move can be deadly.