Port of Paradise by Lisa Marie Rice: When Hope heads to Italy for a few months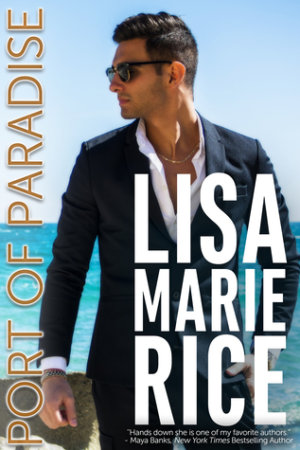 to take her injured friend's place at an English language school in Italy, she soon finds herself in an unexpected, potentially dangerous and inexplicable situation. Strange things are happening in the home of her friend she is staying in, scary things that are bad enough to have Hope reaching out for help from the last source of help she wants…the police. Past circumstances have not inspired faith in police, but with her friend's urging and the situation she is in, Hope has no other option.
Franco Rivera is not at all what Hope expects from an Italian policeman. He looks dangerous, but she doesn't feel she is in danger from him. As Franco looks into the mysterious events surrounding Hope and the home she is in, things become more dangerous and heated in the suspenseful plot of Port of Paradise. At the same time, the attraction between Hope and Franco is getting harder to ignore, and soon Hope finds herself in the arms of the last person she expected to be with. In all aspects the plot is getting hotter…but can Franco keep Hope safe as he and his team work to solve the mystery? And can Hope trust enough to put the past behind her and trust in the present?
Port of Paradise was a read that was easy for me to get into. Lisa Marie Rice kept me there with a suspenseful plot I couldn't quite figure out right until the end, and two main characters who might or might not have a happily ever after together. Lisa Marie Rice wove together very well a tale of suspense with different angles that all will make sense in the end, and a romance that might be fast for some, but is still filled with uncertainty and insecurity. I liked the unknown and surprised of the suspense, and I liked the hero and heroine. I really liked Franco…he is a strong hero who was immediately and intensely attracted to the heroine. Through it all I could feel his interest, his patience, and his need to keep Hope safe. Hope was not as strong a heroine as Franco was a hero, but together they just seemed to fit well and be what the other needed. I found myself really hopeful for them.
I love the setting of Italy for Port of Paradise…it just really worked from the English language school to the well described scenery.
I'd recommend Port of Paradise to any romantic suspense reader who likes things hot!
Book Info:

Publication: January 11th 2017 (first published May 2nd 2003)| Lisa Marie Rice  |
Hope Winston will do anything for a friend—even if it means travelling across the world to help run an English language school in Italy. When her good deed puts her life in danger, Hope is in need of protection, but she doesn't want protection from a cop. She has good reason to distrust them–so how is it that she's ended up sleeping with one?
Head of the elite anti-mafia squad, Capitano Franco Rivera finds the gorgeous American delectable but dangerous. He feels compelled to protect her, even though she can't seem to stop stirring up trouble.
Hope needs a keeper and Franco is just the man to keep her…in his bed.
Note: Port of Paradise was previously released by another publisher. This edition has been lightly edited and updated.