A Royal Baby For Christmas by Scarlet Wilson: When secrets emerge there are always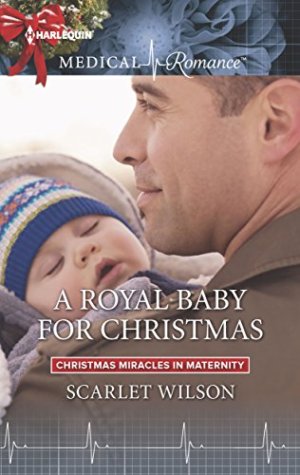 feelings of anger, but when the shoe is on the other foot, who has the right to be angry?
Sienna McDonald knew she was a good doctor. She couldn't have gotten to where she is without that knowledge, but was she really aware of her surroundings all the time? Well that was questionable, especially when she found out her one night, err weekend, stand was really a prince.
Sebastian Falco was raided to be a Prince and eventually a king. He knew his duty and he also knew he was getting to a point where he couldn't put it off any longer. One more weekend couldn't hurt, right? Especially when no last names are given it can just be a light hearted wonderful experience.
Well nothing really is as easy as it seems. In fact sometimes the easiest things turn out to be the hardest, and yes even the best.
This is not quite a novella but not all that long. It is a quick read which can be read as a stand a lone though is part of a bigger series. Ms. Wilson's writing shines through in this work as it does in most of her works. She uses every word choice wisely and gets the most impact out of every word. This is a true work of art that will be tugging at your heartstrings from the first moment.
Book Info:

Publication: Published December 1st 2016 | Harlequin Medical | Christmas Miracles in Maternity #4
A gift for the man who has everything…
A brief, electrifying fling was all Sienna McDonald and Sebastian Falco, Crown Prince of Montanari agreed. But returning to Teddy's, neonatal surgeon Sienna learns she's brought back more than just memories…
Sienna wants to keep her unborn baby out of the limelight, so Sebastian's sudden appearance throws her perfectly ordered world into chaos. She does her best to stay away from the devastatingly charming royal, but Sebastian is determined to claim his family with a forever diamond this Christmas!
Christmas Miracles in Maternity
Hope, magic and precious new beginnings at Teddy's!