A Royal Disaster by Jennifer Bonds: The last thing accident prone artist Elena needed on an already horrible day was to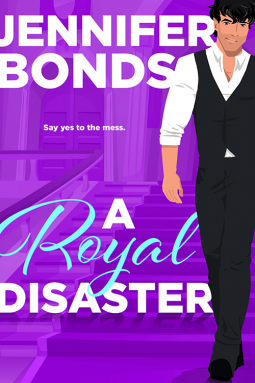 turn the worlds most eligible bachelor and crown Prince of Valeria into a walking eggplant. Oh and to make matters worse the paps caught the entire incident on camera! Lena soon finds herself on the receiving end of most hated person in town and her business is paying the ultimate price for her unfortunate incident with Liam. But being the genuinely nice guy that he is Liam proposes a way for them to help each other out, they fake date. Hoping that being seen together will help create more positive publicity and help boost business at EVA for Lena, while helping Liam to buy some time with his parents relentless mission to get him married.
"You're like Mr. Perfect to my walking disaster."
But as with all things Lena it doesn't take long for their first outing as a 'couple' to go sideways, and of course the paps are there to capture the entire messy thing. As the two continue on their mission to reform Lena's public image they find themselves getting in more and more hilarious situations. With their misadventures soon turning into their own private adventures the two begin to question if what started of as a ploy is not turning into something very real?
"Why did the man have to be so sexy? This would be a thousand times easier if he were a hideous troll. But no, he had to be the fully loaded fake boyfriend model with perfect cheekbones, arctic eyes, and those perfectly symmetrical goddamn dimples she couldn't stop drawing, let alone thinking about. It wasn't fair. Even his hair, despite being mussed— had she done that?—was perfection. How could she possibly be expected not to fall for him?"
I absolutely loved this book! It was definitely not what I had expected but in the best way possible! Both main characters were perfect. I absolutely adore Lena, with her free art loving klutzy nature which made her all the more loveable. I absolutely loved that Bonds added so much emphasis on her culture and background. As for Prince Charming Liam, there wasn't much not to like about him, not only was he charming and swoony but he had a vulnerable side to him that made him very relatable. I like that he wasn't the typical spoiled royal brat that would throw a tantrum, especially considering the number of time he found himself covered in something or the other due to Lena's two left feet.
"Their disastrous meet-cute had been a blessing in disguise. Without it, she might never have found the man of her dreams and she wouldn't be standing here, wrapped in his warm embrace, looking forward to the future for the first time in her life."
The thing I loved the most in this book was the back and forth relationship between Lena and the press, one moment they hate her the next they are shipping her relationship with Liam. I absolutely loved that each chapter ended with a press snippet, added a very Gossip Girl feel to this book.
I would most definitely recommend this steamy version of a Hallmark read to all romance lovers out there. Liam will have you swooning while Lena has you laughing out loud, this pair is definitely one that will steal your heart. Also I really hope that Nia and Ethan get a book for their own.

Book Info:

Publication: November 30th 2020 | Entangled Publishing, LLC (Amara) | Royally Engaged #1
Elena Murphy is doing just fine—if you don't count her struggling art studio, her ex-boyfriend suing her, and accidentally tossing purple paint onto a man who just happened to be in the wrong place at the very worst time. And not just any man, but freaking royalty. The World's Most Eligible Bachelor, to be exact, with the paparazzi catching the whole embarrassing incident on camera.
Could her life be any more of a dumpster fire?
Yes it could. Now she's getting dragged online and her clients are disappearing faster than free drinks at happy hour. And just when she thinks things can't possibly get worse…His Royal Hotness decides the best way to fix this mess is to make her the envy of New York—by pretending to date.
Because what's worse than a prince treating her like his very own Cinderella, including dreamy nights at the theater and a nearly X-rated pottery date?
Reminding herself it's all fake.