In A Seal Forever (West Coast Navy Seals #4) by Anne Elizabeth, Master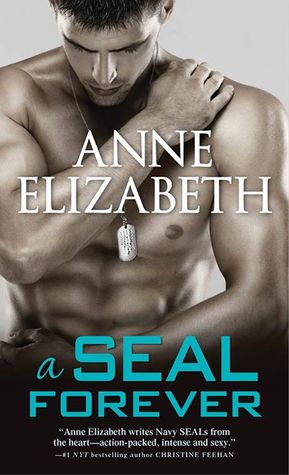 Chief Declan Smith and Maura Maxwell are neighbors. Yet, she doesn't want to be another notch on his belt when it comes to his dating life, so she avoids him like a bad smell. But when Maura finds herself in trouble and Declan comes to her rescue, she finds her life is about to change for the better. However, their relationship is put to the test when Declan is badly injured during a mission. Will Maura be able to prove her love for him, or will Declan push her away?
She pushed herself up onto her elbow and looked at him. "Why wouldn't I? You're still the same man, the person I was falling for."
He grinned. "I thought I was the only one doing the falling."
Her fist struck his chest in a playful jab. "Ha, ha. Who wouldn't fall for you?"
Although this book started off slow, and failed to entertain me through the first chapter, I really enjoyed it once Declan rescued Maura from her moment of stupidity, and then the twist in the middle where Declan is badly injured during a mission with his Seal Team. Those moments kept me intrigued to learn how this couple would achieve their happy ever after, especially with the major obstacle they face when Declan fails to cope with his injury.
The dialogue between Declan and Maura provides some light-hearted moments, which had me smiling. But it also gets very intense when Declan learns about his injury and Maura discusses her past. A past that is a tad heartbreaking, and still has quite an effect on her as it took away her dreams. This moment where Maura pushes Declan to see that just because he's been seriously injured it does not mean that he should give up was memorable. He really needed someone to show him that life goes on, especially when some people aren't so lucky to survive what he did.
"Hey! Everyone gets depressed. Haven't I earned that right…to take a little time off from life?" Declan's eyes narrowed and the pulse at his temple throbbed.
"No," she said flatly. "Life is made up of a series of patterns. Once we choose to get in a rut, we stay in a rut. In order to avoid that, you have to fill your life with something. Anything. And your focus is to get better. What happens when you stop working out?"
"Your muscles atrophy," he said pointedly.
"Yes, and it will take you twice as long to get that movement back. You told me the other day that you were tired of hearing what people handi-abled people cannot do. Well, damn it, show the world what you can do."
At first, I didn't like Maura. Her prickly attitude towards Declan didn't seem fair, but the more I read, the more I began to fathom why she avoided him. Her ex wasn't very understanding when she revealed what happened to her in the past, and it is part of the reason she's been hesitant to get close to another man. However, in saying that, she did eventually win me over as she helps Declan deal with his injury, and then his future health scare. She's very stubborn and determined. The way she challenges him to deal with his injury, instead of letting it get the best of him had me cheering her efforts. Since getting him to the gym, and getting him interacting with kids that have similar impairments did wonders for the hero. He needed the experience to show him that just because he's lost a part of himself, there's still plenty he can do.
Some children were missing limbs, or hands or feet or ears or eyes, a few children seemed very hyper, but here – in this wonderful place – they were just kids. Perfect in every way they needed to be.
While Declan, he was compelling. The emotions and reactions when he learns of his injury, and how he struggles to cope with the fact that his life has changed really drew me in to his side of the story, because he fears the unknown. Since being a member of his SEAL team is all he's ever known, and if that's taken away from him, what would he do?
As for the secondary characters, I loved Declan's SEAL team. They are quite close – as close as family — and the way they teased each other made me laugh. They're a bunch of honorable men, and their easy acceptance of Maura was touching, as she and Declan really needed their support at various times.
In the end, I really enjoyed this book where nicely-detailed sex scenes heated up several pages, and illustrated their instant and intense chemistry, which kept getting stronger with each obstacle they faced. Ms. Elizabeth wrapped the story up nicely with the epilogue, and the surprise an overly-excited sea lion had for the couple. I would recommend this book, if you love military heroes and heroines willing to fight for love.
Book Info:

Publication: December 1st, 2015 | Sourcebooks Casablanca | West Coast Navy Seals #4
Special Operator Declan Smith was a dedicated U.S. Navy SEAL, a known player, and daredevil who loved pushing the limits. But on his last mission, an IED leaves him injured and angry as hell—and it changes everything.
When a loud crash disturbs his neighbor, Maura Maxwell, she assumes the sailor next door is up to his usual bad behavior. But the man she finds covered in glass is far from the cocky ladies' man she'd grown to tolerate. Lying before her is a man fighting to rediscover his place in the world—and he can't do it alone.