A SEAL's Kiss (Uniformly Hot SEALs #4) by Tawny Weber is the fourth book in her series about love in the military. This book can be read as part of the series or as a stand alone.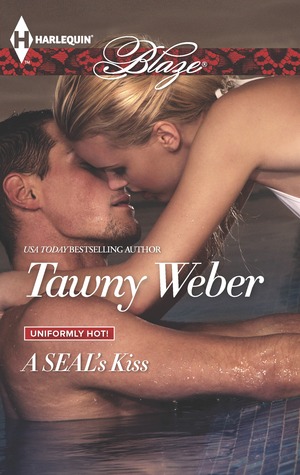 Sage Taylor is a twenty-seven year old free spirit. About a year or so after she graduated from high school, she left her small, hometown of Villa Rosa California, to explore the world and make a difference in the lives of those less fortunate. She is a writer, blogger and activist. Sage finds the act of settling down to be an anchor, but that is only because she has not found her true bliss. When her dad, a university professor, becomes ill, she returns home for an extended stay. She wants her dad to be as happy as possible, so she announces that she is engaged to her dad's protege and her childhood friend, Aiden Masters.
Aiden is a SEAL and the military is his life. He returns home from time to time to visit the professor and his childhood friends. He has always been welcome in the Taylor household. After Aiden's parents perished in 9/11, the professor took him under his wing and taught him everything he knows. Words cannot express Aiden's shock when he finds out that his mentor is very sick. In addition, finding out that he is engaged to Sage, just blows his mind. Nevertheless, he agrees to the "fake engagement" because he wants the professor to be happy and have nothing but positiveness surrounding him, which may make the difference between life and death.
There has always been a sexual attraction between Sage and Aiden, they just never acted upon any of their lustful feelings. Sage wants Aiden in her bed, so little by little, she begins breaking down his barriers in order to seduce him. However, Aiden is a military man and his rules and regulations for "mission fake engagement" constantly get in the way. They eventually give in to their desires and the heat they create is combustible.
All of Ms. Weber's SEALS are uniformly hot and Aiden is a welcome addition to the exclusive group. I could not get enough of his intelligence, personality and general admiration of Sage as his fake fiance.
One of the things I really liked about this story was the way it began. Time after time, Sage returning home from who knows where to attend one of her girlfriends' weddings. Each wedding results in her examining her life and putting some pressure on herself to settle down and start a family. No wonder she thought of a fake engagement, she is surrounded by matrimonial bliss.
Overall, a fun read with likeable characters and a hot couple that burned up the sheets.
Book Info:

Expected publication: April 2014 by Harlequin Blaze | (Uniformly Hot SEALs #4)
Subject: Navy SEAL Petty Officer Aiden Masters
Current Status: On leave
Obstacle: Deploy "Mission: (Fake) Engagement"…without actually falling for his fiancée!
The goal of Mission: Engagement is simple—a fake engagement concocted to bring happiness to Sage Taylor's ailing father.
The Rules:
1) Treat it like a military mission
2) Keep the truth undercover
3) The "engagement" lasts as long as the professor's health depends on it; and
4) No sex…especially with each other!
But the incredibly spirited (and a touch quirky) Sage has never been one for rules. Especially when they involve Aiden's rock-hard navy bod and a ton of smokin'-hot sexual attraction. Which means in order to seduce this sexy SEAL, she'll have to completely outmaneuver him….