In Deceiving Lies (Forgiving Lies #2) by Molly McAdams, Gang unit officer Kash finally has his beautiful fiancee Rachel back in his life and he's not giving her up again without a fight. Their wedding plans are under way and he is looking forward to a long, happy life with lots of babies in their future. Then the unthinkable happens when Rachel is taken from their home. The clues lead to retribution from his time as an undercover narcotics officer so it's up to Kash and his partner Mason to find Rachel before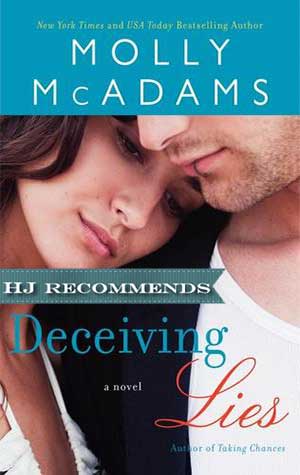 it's too late. But there's a further complication when one of her abductors turns out to have feelings for her and Kash worries he may lose her just when he's finally found her again.
Turning to look at him, I held his gaze as I said, "She's mine. Do you get that? You can't have her, and if you touch her again, I won't be held responsible for my actions. She belongs. To. Me."
Rachel's life is beginning to look up, with her upcoming nuptials and her sexy fiance by her side. But when she's kidnapped from her own home, she once again has to fear for her life and rely on Kash to come to her rescue. Rachel wasn't expecting one of her captors, Trent, to try to protect her. As the days wear on, she grows confused as to whether she can trust him and what his intentions truly are where she is concerned. How could someone so kind to her be part of such a sinister plan? And once Rachel gets reunited with Kash, will he ever be able to understand what she has been through?
"I don't know what you did before you came into my life, and I don't care. You may have done some bad things, but you're not a bad person. You're caring and brave, and I will never forget what you've done for me."
Be ready for an action-packed, thrill ride full of intense emotions when you read Deceiving Lies. Just when you think you've got it all figured out, Molly McAdams throws another twist into the mix. And I loved every minute of it.
Since previously reading part of another of Molly's series, Taking Chances, I have read numerous other new adult books. I have to say there is no other author in the genre that can toy with my emotions like she does. Her books just wreck me emotionally…and then make it all better by the end. Usually. Here in book two, we pick up from the cliffhanger ending in book one and follow Rachel and Kash through to their HEA. I would highly suggest reading book one, Forgiving Lies, first. Otherwise you will spend half of this novel trying to figure out what the heck is going on.
I really loved Kash and Rachel as a couple. They were so funny together, always teasing each other, and Kash was forever trying to get Rachel wound up. They seemed like their personalities would realistically work together, I thought. And boy don't they go through hell over the course of this story, much like book one. I'll admit I was not happy at first with the introduction of Trent and the confusion he brought to Kash and Rachel's relationship. I hate to see people hurt or in harmful situations, even in books (I'm a sap like that), so it was a bit difficult to watch these two loving people, plus their family & friends, deal with such dark emotions. But all's well that ends well and they get the mother of all HEA's. *happy sigh*
Whether you're a fan of the new adult genre and/or a Molly McAdams fan, definitely check out Deceiving Lies. Just hold on…it's a bumpy ride that's well worth it.
Book Info:

Published March 4th 2014 by William Morrow Paperbacks | Forgiving Lies #2
The irresistible, blazing-hot sequel to New York Times bestselling author Molly McAdams's Forgiving Lies.
Rachel is supposed to be planning her wedding to Kash, the love of her life. After the crazy year they've had, she's ready to settle down and live a completely normal life. Well, as normal as it can be. But there's something else waiting—something threatening to tear them apart.
Kash is ready for it all with Rach. Especially if all includes having a football team of babies with his future wife. With his line of work, he knows how short life can be, and doesn't want to waste another minute of theirs. But now his past as an undercover narcotics agent has come back to haunt him … and it's the girl he loves who's caught in the middle.
Trent Cruz's orders are clear: take the girl. But there's something about this girl that has him changing the rules and playing a dangerous game to keep her safe. When his time as Rachel's protector runs out, he will turn his back on the only life he's known, and risk everything, if it means getting her out alive.