A Soldier's Christmas by Leslie Kelly, Joanne Rock, Karen Foley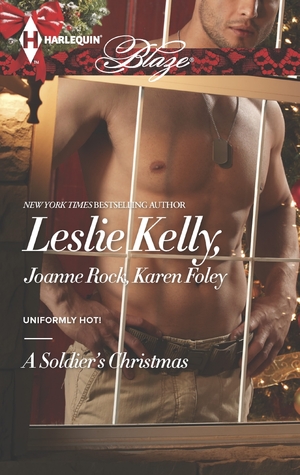 I'll Be Home for Christmas by Leslie Kelly is a hot novella about never falling out of love. Veterinarian Ellie Blake and Army Ranger Rafe Santori fell in love over seven years ago, a few months before Rafe was deployed. Their chemistry was magnetic and they both thought about each other a lot as they lived their respective lives and time passed by.
Coincidentally, they both end up being stranded at the same airport during a horrible blizzard. Instead of waiting for the storm to subside and fly home, they decide to drive to Chicago together. Tomorrow is Christmas Eve, and they are determined to get home as soon as physically possible. The driving conditions are horrendous, but they travel about 300 miles before they stop for the night. In addition to getting to know each other again, the sexual tension during the car ride is almost combustible. Mind-blowing sex is a given when love is the anchor. When they finally reach Chicago, they are a couple once again. Ellie and Rafe rekindle the love they shared so many years ago and they finally get their happily ever after.
This is a moving, well-written novella that will definitely put a smile on your face.
Rating: 4 Stars
 
In Presents Under the Tree by Joanne Rock, successful Las Vegas show producer Arianna Demakis and U.S. air force captain Dylan Rivera have known each other since childhood. When Dylan turned thirty, they celebrated his return to the states and his birthday by getting a little drunk and tying the knot at a drive-through chapel window. They may have been a little tipsy, but they both knew exactly what they were doing.
Four months later, Dylan has returned once again. His job is very secretive, so he and Arianna have barely communicated during his absence. Although they truly love each other, their future is uncertain. Only time, passion and open communication will help with their decision-making process.
This is a nicely written short-story and is a enjoyable read for the holiday season.
Rating: 3.5 Stars
If Only In My Dreams by Karen Foley: They see each once again when Aiden becomes very sick because of Dengue fever and Lily ends up being the medic in charge of his care. Because Lily's tour is up and Aiden is being sent home to recuperate, they travel back to the states together. Stormy weather causes their flight to be diverted, and now they are in Fort Atterbury awaiting outprocessing, along with a ton of other soldiers. Thus, getting home in time for the Christmas holiday is a pipe dream. They get very lucky and end up staying at a lovely bed and breakfast, instead of a cot or floor on base.
Their attraction only intensifies as they spend time together, become immersed in the holiday season and consummate their their passion. What begins as an attraction evolves into love.
Not only is this a great novella, the sex scene is a total scorcher. I really felt a connection with the two main characters, Aiden and Lily, because their actions were believable and romantic. If you need a little steam during the holiday season, give this story a read.
Rating: 4.5 Stars
Book Info:

Expected publication: November 19th 2013 by Harlequin Blaze  Book 776 |Uniformly Hot!
These men in uniform can be counted on to deliver presents…all night long
I'LL BE HOME FOR CHRISTMAS by Leslie Kelly
Rafe and Ellie have always had sizzling chemistry and horrible timing. Being stranded together in a blizzard may be Rafe's opportunity to prove that this Christmas, his timing is perfect.
PRESENTS UNDER THE TREE by Joanne Rock
The sexy air force captain Arianna foolishly married four months ago is coming home, and Ari knows they have to fix their mistake. But she had forgotten just how convincing Dylan's kisses can be….
IF ONLY IN MY DREAMS by Karen Foley
When Aiden is ordered home after an illness, he's thrilled the sexy medic he's been having X-rated dreams about is on the same flight. When they're unexpectedly grounded, Aiden wonders if this is their chance to be deliciously naughty….