Heating Up the Holidays by Lisa Renee Jones, Mary Ann Rivers, Serena Bell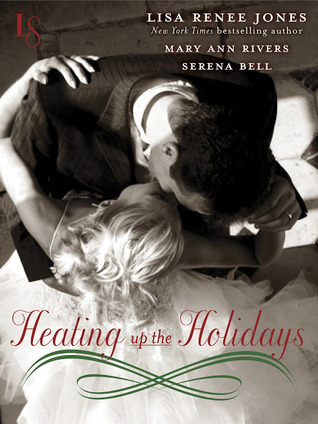 In Play With Me by Lisa Renee Jones, Kali has been waiting to make good use of her journalism degree and be able to launch her career to new heights. But after three years of reporting nothing of big importance and then being horribly treated by her boyfriend and father, she has had enough and leaves her hometown for hopefully a better job in Vegas. Only there seems to be no job openings and the agency is about to tell her to return home when they receive an urgent request for an executive secretary, something that Kali is actually very capable of handling.
Damion Ward is the CEO of the Vegas casino that Kali is going to work for. And while everyone is deadly afraid of him, there are only a few people that he likes and gets along with very well. He needs someone that will not bow down to him or stand up for themselves as his executive secretary.
What neither Damion or Kali expect is that on her first official day at the job someone is trying to hack into the system. Which in turn makes Kali and everyone at the casino under some type of lockdown. Only Kali gets taken to a suite she cannot leave and she cannot call anyone, not even Damion.
Damion and Kali have a rough start and Damion will have to work hard to keep her working for him. But in a way her not working for him is better since that would mean that he could pursue his attraction to her. But if Kali leaves he will once again be on the lookout for a new replacement. And with someone trying to steal from the company Damion has little time to spare and he needs Kali's help to discover who is taking inside information.

Play with me is a fun and hot read with enough intrigue to keep me reading, even if I did want the romance to be more focused than the intrigue. But regardless it was a great and entertaining read.
In Snowfall by Mary Ann Rivers, Jenny Wright is a microbiologist who loves her work. Jenny learns that she has a medical condition and is slowly starting to loose her sight, beginning with her peripheral vision and then it will slowly continue narrowing until she completely looses her sight.
Jenny hates that she has to go to occupational therapy every week to learn a new way to live with her sight worsening little by little. She likes her doctor that is checking every two weeks how much sight she has left, but she hates her therapist. She does not like change and working with him means a big change in her life.
Her only consolation is "C" a macro-photographer and the ex-tenant that used to have her apartment right before she moved in. They met online after she forwarded some mail to him via the apartment manager. Now they chat online and she forgets her problems while also looking at his pictures.
But soon Jenny starts to have feelings towards "C" who has evolved from being a cyber-friend to someone she has cyber-sex with. Only after she finally gives Evan, her therapist, more of a chance to help her. She realizes that she likes him and is attracted to him. But now she is more confused about whom she really wants to be with and whom she really cares about.
What Jenny doesn't know is that Evan has a few secrets of his own. And only by letting him get close to her will she also learn her true feelings.

Snowfall is a sweet read with lots of emotions, My only issues with it was lacking in the romance department, it was more based on Jenny's profession and the technicalities of it than the actual romance between the characters.  I would have liked to have "seen" the chemistry and romance  between the characters develop rather than be told about it.
In After Midnight by Serena Bell, Miles Shepard is at a New Year's party with a friend. After being suspected of embezzling, Miles finds no happiness with everyday life. He is embarrassed about how his co-workers might look at him now, which is why he has kept to himself since the investigation began and he had to step down from his job and take a leave of absence until the investigation concludes.
Nora Hart is on the rebound, her boyfriend of three years has just broken up with her when she thought they would be taking the next step. Now at a New Year's party she only wants to have fun and enjoy herself. She doesn't want anything permanent, but if she were to find someone to have her rebound with, she would not be averse to it.
When Milespots Nora dancing he cannot help but stare at her. She looks really hot and her body can certainly hold his attention. But he knows that he cannot pursue anything with anyone, for if his own fiancé didn't believe of his innocence what can he expect of a stranger. But Nora has spotted him too, and she will not be as shy as him.
So when midnight strikes they are in the perfect position to be each other's kiss. But when a drunken man makes a move on her soon after, Milo starts a fight. Only to have the drunk's friend start to gather in his defense and Mile's friend drags him out before they get beat up. Unfortunately, neither him nor Nora exchanged names or numbers.

Now almost a year later Mile's friend has tracked down Nora, and asks her to give Mile's a call if she is still interested. What began as a hot kiss before soon develops into a hot affair. But Mile's fear of rejection may just end their relationship before it even begins if he doesn't learn to trust her.
After Midnight is a sweet, fun and hot read with a very real life feel to it and with characters that get to you. They not only have problems, but also insecurities. But with a little trust and love they are able to get their own HEA like a good romance.
Book Info:

October 28th 2013 by Loveswept
As leftover turkey and stuffing give way to stockings and little black dresses, this tantalizingly sexy eBook bundle offers up holiday-themed novellas from a trio of beloved romance authors. Lisa Renee Jones gives a dedicated reporter and a powerful businessman a chance to count their Thanksgiving blessings in Play with Me; Mary Ann Rivers presents Snowfall, the story of a woman who confronts a life-changing event—hopefully with a special man by her side—just in time for Christmas; and in Serena Bell's After Midnight, an explosive New Year's kiss leaves two strangers wondering whether they'll ever see each other again.
PLAY WITH ME by Lisa Renee Jones
Kali Miller has spent three years reporting fluff stories, waiting for the article that will launch her career to new heights. When she suddenly finds herself forced to take a job as an executive secretary at a Vegas casino, Kali meets the subject of what will surely be a shocking exposé: her boss, Damion Ward, the arrogant and undeniably sexy CEO. But after Damion invites her to help him plan a Thanksgiving charity event, Kali begins to see another side of the man. And when she surrenders to the exhilarating tension simmering between them, Kali hopes her story will have a happy ending.
SNOWFALL by Mary Ann Rivers
Jenny Wright can't get enough of her erotic conversations with someone she knows only as "C." Flirting online helps Jenny temporarily escape confronting the changes to her life as she slowly loses her vision. Jenny's occupational therapist, Evan Carlisle-Ford, is helping her prepare for the challenges ahead, but the forthright, trustworthy man can no longer ignore his growing attraction to his fiercely intelligent client. Now Jenny must choose between the safe, anonymous "C"—or the flesh-and-blood Evan, whose heated kisses can melt snow faster than it can fall.
AFTER MIDNIGHT by Serena Bell
The clock is ticking down to midnight on New Year's Eve, and all Nora Hart and Miles Shephard can think about is kissing each other—even though they met just minutes before. Then, as fast as Miles enters Nora's life, he's gone . . . and she never even gets the name of the man she thinks might just be "the one." One year later, Nora and Miles are reunited. The chemistry between them is just as strong as they remember. But Miles broke her heart once before—and this time around, Nora's not sure whether she can give love a second chance.