In Sleigh Belles by Beth Albright, Christmas is right around the corner and tenacious tv news reporter Dallas Dubois is battling it out for a spot as evening news anchor on Tuscaloosa's local station WTAL. But just when she thinks she's on a roll professionally, she's asked to direct a children's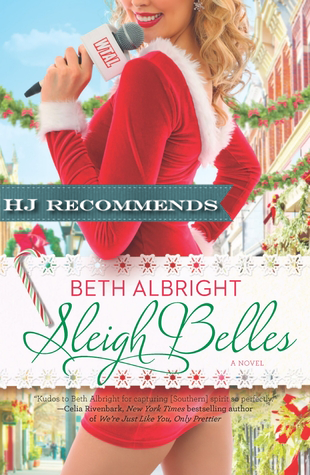 Holiday play at the last minute, taking up valuable time she could be spending searching for stories.
'How was it possible that not only was she stuck directing this ridiculous play, but now she'd also have to do it alongside the one man who never failed at making her lose her cool?'
Two issues confront Dallas immediately: first, she doesn't know anything about children; and second, Cal Hollingsworth, her old high school crush, is the sound tech for the play. Dallas is normally pretty confident when it comes to men, but Cal throws her off her game. As she gets to know Cal better though, Dallas wonders if maybe she may not have given him enough of a chance before. Maybe now is the time to finally give in to her emotions for once.
'He'd simply taken care of her. She seriously couldn't remember a single moment like this in her entire life.'
Cal Hollingsworth can't believe he's going to have to work so closely with beautiful but arrogant Dallas Dubois. She both frustrates him and turns him on in equal measures. Cal slowly begins to warm up to Dallas as she shows him a side of her personality that she's never really shared before. And he feels humbled by being given that chance. But when family issues create chaos in Dallas's life, Cal is torn between interfering by offering advice, and staying out of it so he doesn't lose the best thing to happen to him in a long time.
'He wanted the kind of love his parents and his brothers had in their marriages: the real thing. A love that lasted a lifetime.'
I have a confession to make: I really didn't want to like Dallas after her antics in the previous two Sassy Belles books. However, I found that not only did I warm up to her while reading Sleigh Belles, I was actually cheering her on by the end! How is that for a turnaround?
'Something was stirring inside her that she hadn't felt in a very long time… It was a feeling she hadn't felt since childhood. It was a sense of hope, and she held on to it as tightly as she could.'
There's just something magical about Christmas…and Christmas stories, of course, isn't there? Sleigh Belles is certainly no exception. The plot is full of love for family and friends, the spirit of the Season and Hope. We also get to catch up with the Sassy Belles: Blake and Vivi, along with our other Tuscaloosa favorites, and see what they are up to this Holiday Season.
Dallas was a complex character to get to know. I loved learning more about her childhood and finding out why she has such a fierce attitude. (And yes there is a good reason) It was so wonderful to see her breaking down her "protective firewall" and learning to take a chance on letting people in. It's not an easy thing to do for any of us, but especially not for someone who's been hurt like Dallas has been.
I still love Beth Albright's writing "voice". She's a highly quotable author who blends drama, humor and passion together to give us a perfect contemporary romance worth reading over and over. I look forward to many, many more offerings by Beth…regardless of if it's more Sassy Belles or not.
If you are a fan of Holiday romances, definitely check out Sleigh Belles. It has HEA's all around and made me sigh happily & shed a few sappy happy tears as well.
Book Info:

 HJ Recommends
Published September 24th 2013 by Harlequin MIRA | The Sassy Belles
Join the Sassy Belles this holiday season—it's Christmas, Southern-style!
With her hair perfectly coiffed, nails freshly manicured and a heavy trail of perfume wafting behind her, local news reporter Dallas Dubois is sure she's about to kick her career—and maybe her love life—into high gear. The director of the Tuscaloosa children's Christmas play has fallen ill, and Dallas is ordered by her station manager to take the reins. Everyone is shocked—especially Cal Hollingsworth, who still remembers her as the Ice Queen from high school.
If nothing else, Dallas has never met a challenge that a little lip gloss and a Chanel knockoff couldn't fix. But she has no idea how to relate to these kids, and their brutal honesty is giving her pause. Things are made even more complicated by the butterflies she gets whenever Cal is near….
But when long-lost family members reenter her life, Dallas's icy veneer begins to melt. And with Cal by her side, she soon realizes that it's what's under all the hair spray that counts.