A Song of Secrets (The Hana Trio #1) by Jayci Lee is a story full of music. The Chamber Music Society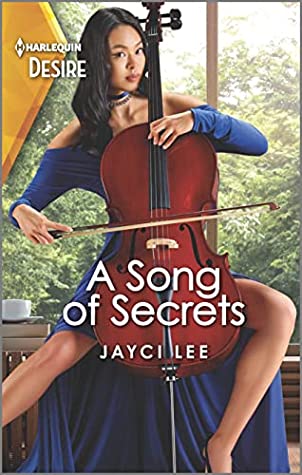 urgently needs its new season to be a success, and the money to flow like the musical notes that are heard in the place so it could remain open, because the pandemic hit the society hard. To do this, Angie Han has found the perfect solution: she would ask the composer of the moment, A.S., to make a piece for The Hana Trio (Angie and her sisters' group), which would premiere the night of the beginning of the season. The anonymous composer keeps his identity top secret, but Angie has discovered it. A.S. is none other than the vice president of Riddle Incorporated, Joshua Shin. And her ex!
Angie and Joshua broke up on very bad terms ten years ago. Therefore, Joshua harbors some resentment. It's better to resent than explore all the emotions inside him, right? Although his greatest fear—more than the world discovering his secret—is having contact with Angie again because his world and his creativity would suffer greatly if she breaks his heart again, he agrees to compose a piece for the string trio on the condition that Angie plays the cello for Joshua's grandfather twice a week, as part of his therapy to improve his unstable heart condition.
"Love was dangerous. Love could break him."
What Joshua doesn't know is that Angie also suffered a lot from the breakup.
With no choice but to lie to Joshua to get him to let her go, Angie has spent the past ten years filled with regret for what she did to break up with him. Despite what it means to work with Joshua, she has to do everything she can for the Society. It is either that or lose the independence that she has fought so hard for. Angie lives keeping her secret; she knows that at some point she will have to tell the truth about their breakup not only to Joshua, but to her sisters (who are unaware of her relationship with the executive and composer). Especially since what he and Angie had lives on, stronger than ever.
As soon as they see each other again, everything resurfaces between them. Passion and sexual tension take over everything around them, making love and the hope of a future together possible. However, everything gets complicated when the trust factor gets in the way between them, since in the end it all comes down to Joshua's lack of trust towards Angie.
"How could there be love without trust? There was never any hope for them. Maybe it was for the best that he'd broken her heart now."
I loved the way the author has written this book. With vast knowledge of the subject, she presents a love story filled with emotional music. We can also see that the plot's rhythm follows the composition Joshua writes to Angie at some point in the book.
"The rhythm grew faster and faster, then screeched to an abrupt halt. There were three bars of rest but the quiet was filled with the beating of her heart. Then poignant, tender notes filled the silence, and she heard the sound of hope."
That said, the events sequence is a bit slow in the first half of the book, which makes the reading a little inconsistent. Once we get into the second half, everything flows like the harmony the sisters have when they're playing.
As a music lover, I have been fascinated by this book. And its cover, like its ending, is splendid. With a plot that grabs you from the first page, this story has been a great start to this series.
Book Info:

Publication: January 25, 2022 | Harlequin Desire | The Hana Trio #1
Her secret tore them apart.
Will his secret reunite them?
World-renowned cellist Angie Han is desperate to save her trio's chamber music society. So when she discovers that her ex Joshua Shin is the anonymous composer setting the classical music world on fire, she asks for his help. The sexy musician agrees to an uneasy truce to protect his secret success. But when their passion reignites, Angie's own secrets may be exposed. Will Joshua ever trust her again? And will what's keeping them apart ever lead them to happily-ever-after?