In A Surgeon for the Single Mom by Charlotte Hawkes, Talank 'Tak' Basu is determined to have a date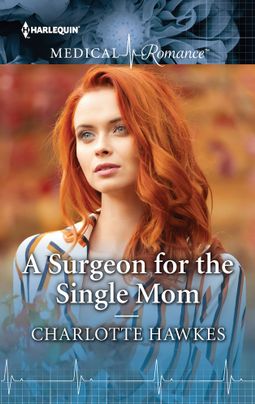 for the benefit he has to attend and asking Effie Robinson is the right thing to do, especially when she could use her own date to fend off any unwanted advances by men she doesn't have time to date. However, when Talank finds himself asking Effie and her daughter to move in with him for a short while as their apartment undergoes repairs, he finds himself doing the one thing he swore he'd never do – fall in love. Will Talank be able to convince Effie to take a chance on him or will she walk away from a shot at happy ever after?
"I don't want sex with you," he corrected.
How was it possible to feel suddenly deflated when she didn't want complications herself? "Oh. Right." She sounded so stiff, so wooden. "Well, good. Glad that's cleared up."
He raked his hand through his hair and she found the unexpectedly boyish gesture all the more disarming. "I didn't mean it to sound that way." Clearly this was as close as she was going to get to an apology. "My point is that I want a date as a buffer. I don't want complications from it. My extended family have it in their collective heads that if I'm not going to find a wife for myself then they need to find one for me. A date will buy me some time."
The way this story started was interesting and drew me into the story immediately, as Talank's extended family (most especially his mother) are quite the interfering type and I could understand why his sister would do everything she can to help him. Who wants their parents to use them for their own benefit? However, it was from the moment the hero and heroine come face-to-face for the first time where this story really takes off, as the hero has never had a woman affect him as much as Effie does and that scares him. Since he's seen how explosive relationships can be and is determined to avoid the kind of relationship his parents have.
As for the dialogue, it was intense due to the main characters back stories, the relationship the hero has with his parents and the struggles the heroine faces with her daughter that made me love how willing the hero was to help Effie. Moreover, the hero and heroine are relatable and likeable and I really enjoyed their back stories and the decisions they both make to fight for their happy ever after. Will the hero choose love over everything else in his life? Will the heroine be able to put her trust in the hero, especially after the disaster of her last relationship? She and her daughter come as a package deal and if a man can't accept that than there's no possible way she can be with him. Luckily, the hero gets along quite well with the heroine's daughter.
"I know," Nell muttered eventually. "She always put me first."
Tak's smile was surprisingly soft. "She's also your fiercest advocate."
"Yeah, I know that too. Even if she can be a bit of a walk-over in other areas."
"I am not a walk-over," Effie spluttered.
The pair ignored her, as though they were banding together to disprove her point without either of them saying a word. It was the oddest sensation in the world. Nell and Tak, clicking together as if they'd know each other for years, not merely met on two brief occasions.
With the heroine, she's resilient, hard-working, brave, has been through a lot in her life and has found being a single parent isn't easy, especially now that her daughter is at an age where she's crying out for attention by making silly choices. Will the heroine be able to get through to her daughter and show her that the town they've moved to isn't all that bad? Will the hero be able to get through to the heroine's daughter and make her realize that she's the most important person in Effie's life and nothing will ever change that? While the hero, he's smart, confident, driven, has a good relationship with his siblings and I liked how determined he was to win the heroine over. Is the hero using Effie to annoy his parents because she's so unsuitable to be involved with and not worthy of the attention of the Basu family?
Overall, Ms. Hawkes has delivered a really good read in this book where I smiled a lot because of the growing relationship between the hero and heroine, especially in the moment they meet and Tak gets a little cocky in thinking that the heroine is going to give in easily because he's so charming; the romance was well worth the wait because of the building sexual tension between the pair, as the heroine helps Tak with his need not to be set up by his family because he doesn't want a relationship; and the ending warmed my heart because of the hero's determination to fight for the heroine. No way is he going to let anyone come between them because she's everything he wants and more. Then again, the hero is good for the heroine's daughter too. However, it was the epilogue that wrapped everything up perfectly because of how much Tak and Effie have to look forward to. I would recommend A Surgeon for the Single Mom by Charlotte Hawkes, if you enjoy the fake relationship trope or books by authors Meredith Webber, Becky Wicks, Caroline Anderson and Susanne Hampton.
Book Info:

Publication: April 1st, 2019 | Harlequin Medical |
From bachelor doc…to family man!
As a single parent and helicopter rescue doc, fiercely independent Effie Robinson has no time for romance! So when hotshot neurosurgeon Talank Basu proposes a mutually beneficial dating ruse, what could be the harm? Only, Effie's not prepared for how protected and supported he makes her feel… Tak's fighting their sizzling attraction just as much as she is—will they finally give in and trust in their once-in-a-lifetime chemistry?