Fumbled by Alexa Martin is the second story in her Playbook series about NFL players and the women who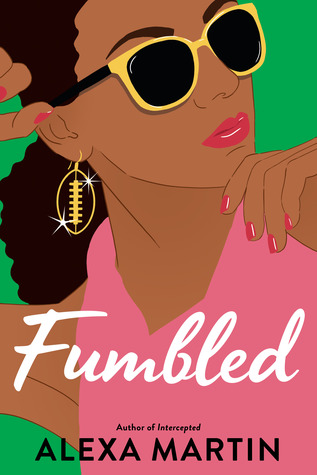 become their partners through the lows and highs of a professional football career.
Poppy Patterson and TK Moore might have been an item in high school, but their lives went in very different directions. TK went on to a successful football career through college and now he's playing wide receiver for the Denver Mustangs. Poppy, pregnant at 16 and believing that TK didn't want to be held back by a baby, ended up on her own as a single mother. Her son Ace has never known who his father is, but that's about to change.
A chance meeting with TK at a club where Poppy works as a waitress is something she's been both anticipating and dreading, knowing that living in the same city might bring them into each others sights again. And when she gets up the courage to tell him about Ace, his first reaction is angry disbelief. But once TK sees Ace and realizes Poppy is telling the truth, everything changes. He wants to be part of his son's life – and Poppy's too. Poppy's heart broke the first time she and TK were together. Can she forgive him and give them the second chance at happiness they deserve?
Secret baby alert! No secret to the reader though as it's clear from the start why Poppy is raising her son alone and also why TK isn't involved. TK has reasons for not believing Poppy when she tells him the story, and we quickly learn that there are circumstances that have kept them apart, but TK's sincere desire to be involved in Ace's life comes through immediately.
TK is a very likable and generous man, a hardworking football player and it's clear he's held a torch for Poppy that's never gone out. He wants to resume a relationship with Poppy but she is rightfully cautious. She's had to make her own way most of the time (with some help from her aunt) and is a fierce mama bear when it comes to her son. I loved her character, her feisty nature and her internal monologue is laugh out loud funny. She's wary of TK's wealth and taking advantage of it, and stands her ground when it comes to not uprooting Ace from the life he knows now, his home and school and friends.
The rekindling of the romance between TK and Poppy is a slow burn affair, with Poppy taking her time to decide if it's really what she wants. But when they do reconnect, they share some sexy scenes. Poppy has never been in the world of professional football so part of the story is her and Ace becoming part of the 'wives and girlfriends' scene and Poppy makes some new female friends that help her navigate her new role. I thoroughly enjoyed the girlfriend scenes too – the author has a great voice for female characters and the story is told all from Poppy's point of view.
But with the reality of sports injuries becoming increasingly visible, the author doesn't shy away from that aspect of the sport. Poppy has kept her son out of football because of her concerns over brain injuries. Though TK would like to deny it, he has bouts of irrational anger that Poppy believes are due to the concussions he's had playing the game, and when she and Ace witness some hard hits during TK's on-field plays she tells her concerns to TK. She makes it clear that her son won't be following in his father's footsteps, despite his obvious aptitude for the game. Poppy makes TK consider his career in a new light and consider what he really wants for his future.
Whether you are a football fan or not, there's much to enjoy about this story. There's a depth of understanding of the sport and what goes on behind the scenes for the partners of the players that make it a realistic read (no surprise, since the author has personal experience in this regard). There's a delightful and sexy second chance romance for a couple who are clearly compatible equals and parents learning to become a real family unit. And their son is a joyful boisterous nine year old thrilled to connect with his Dad, a boy who steals all his on page scenes. The combination of serious and laugh out loud funny makes for a wholly entertaining read. I'm looking forward to the next in the series!

Book Info:

Publication: Apr 23, 2019 | Berkley | Playbook #2
A second chance doesn't guarantee a touchdown in this new contemporary romance from the author of Intercepted.
Single-mother Poppy Patterson moved across the country when she was sixteen and pregnant to find a new normal. After years of hard work, she's built a life she loves. It may include a job at a nightclub, weekend soccer games, and more stretch marks than she anticipated, but it's all hers, and nobody can take that away. Well, except for one person.
TK Moore, the starting wide receiver for the Denver Mustangs, dreamt his entire life about being in the NFL. His world is football, parties, and women. Maybe at one point he thought his future would play out with his high school sweetheart by his side, but Poppy is long gone and he's moved on.
When Poppy and TK cross paths in the most unlikely of places, emotions they've suppressed for years come rushing back. But with all the secrets they never told each other lying between them, they'll need more than a dating playbook to help them navigate their relationship.