In A Surgeon to Heal her Heart by Janice Lynn, nurse Carly Evans wants nothing to do with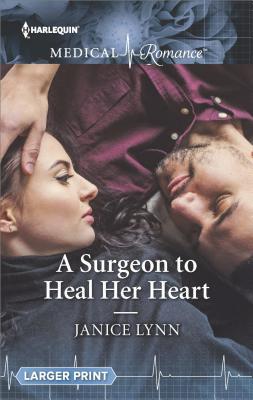 relationships, especially not after having her heart broken and working two jobs to take care of her ill mother. Yet, there's something about Stone Parker that she can't resist. Will Carly be able to put her trust in a man again, or will she walk away from her best chance of being truly happy?
"I won't excuse you," he clarified. "Not this time. Eavesdropping was rude. You're right. But since I was the topic of conversation, surely I'm forgiven for jumping in?"
Her insides shook so that she still might end up spilling those meds she held yet. "There's no rule that says I have to forgive you for butting into my conversation."
"Even when the conversation is about me?"
"Especially when the conversation is about you."
This is the second book I've read by Ms. Lynn, and it's a story that encompasses plenty of emotion that I could feel along with the characters; a heroine with a heart-rending back story because of what's happening with her mother; and dialogue that was compelling, as the hero does his best to break down the high walls the heroine has. Will he win the heroine over?
As for the way this story started, it had me liking the conversation between the heroine and her friend, as her friend wants the heroine to give the hero a chance; something that isn't easy for the heroine because she doesn't have time for a relationship nor wants a relationship. However, it was from the moment the hero and heroine came face-to-face for the first time that had me smiling, because the hero is charming and determined in his pursuit of the heroine.
Both the main characters were engrossing and I loved every interaction between them, as the hero proves he's a good guy; a guy that can handle everything she deals with in her life when it comes to her mother's illness. I also liked how loyal and honest the hero is, which is proven by what he did in the past when it came to his previous relationship, even though he feels guilty that he wasn't able to help the woman. Yet, what I liked most of all about the hero was his determination to prove to the heroine that he's different than her ex. That she's worth everything to him and there's no place he'd rather be than with her. While the heroine, she's a good daughter that would do anything for her mother, which is proven by what she's doing for the woman that raised her, even if she is running herself ragged and won't let anyone in. Yet, in saying that, I liked that she gave the hero a chance, even though it wasn't easy for her to do after how her last relationship ended.
He held up the game. "I play to win."
"I've noticed." He arched a brow. "You don't seem the type to not get your way often."
"More often than you obviously think." His happiness ebbed a little. "That's life. We win some and lose some. It's all good and what makes us into the people we are."
Overall, Ms. Lynn has delivered a wonderful read in this book where the chemistry between this couple was strong; the romance shows how good these two are together; and the ending had me loving the hero's determination to prove to the heroine that he isn't going anywhere. However, it was the epilogue that wrapped this story up nicely, as Carly and Stone are so deserving of their happy ever after. I would recommend A Surgeon to Heal her Heart by Janice Lynn, if you enjoy books by authors Alison Roberts, Dianne Drake, Lucy Ryder and Susan Carlisle.
Book Info:

Publication: January 16th, 2018 | Harlequin Medical |
He wants more than a workplace fling! But can he persuade her to let him in?
With two jobs, a sick mom and a broken heart, nurse Carly Evans has no time for romance. Until gorgeous surgeon Stone Parker gets right under her skin, and gives Carly a glimpse of a new life. The one Stone would gladly give her–if she can find the courage to take it…