Wallflower Most Wanted by Manda Collins is the third story in her Studies in Scandal series, about a group of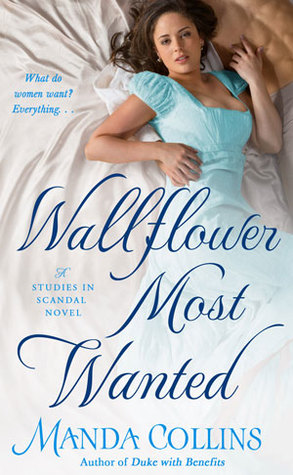 young ladies, all bluestockings, who inherit a country estate from a mysterious benefactor. Each story in the series has had a mystery to be solved combined with a delightful and entertaining romance. While one might think that having a vicar as the hero would keep the story rather tame, the enterprising and handsome Reverend Lord Benedick Lisle and his sleuthing companion Miss Sophia Hastings find ways to heat things up in a fashion that suits their characters.
Painting is Sophia's passion and when a cliffside morning session ends with a small tumble onto the beach below, she's rescued by the always pleasant and devilishly handsome local vicar, Benedick. Out of sight, they overhear a not so private conversation above that leads them to realize something nefarious is afoot. Sophia's sprained ankle gives Benedick an excuse to visit socially and Sophia uses the visit to insist that they investigate the mystery together.
It turns out that Benedick's brother has been asked by the Home Office to investigate a forgery ring that's believed to be operating in their area, and with Sophia's connections to the local artists colony, she insists on being part of the search. Plus, she's planning to exhibit her own paintings in an upcoming exhibition, to the consternation of the some of the more conservative members of their village, who could also be involved. As Benedick and Sophia uncover the clues to solve the mystery they also find themselves developing a tendre for each other. Sophia doesn't believe she is the kind of woman Benedick would want as his wife, and he's got enough local ladies vying for the job that she can't imagine he'd consider courting her. Yet all signs point to a mutual affection. When their mystery turns into a more deadly affair, will their chance to have a happy ever after be cut short?
If you love a good regency romance with an intriguing mystery, you'll definitely want to read this series. Even with the mystery to be solved, and usually a murderer afoot, the stories are low angst and a lovely way to spend a few hours. Because of Benedick's occupation, the romance between him and Sophia is a slow burn one, though there are some sexy times later in the story once Benedick realizes that Sophia is the woman he wants to marry. Sophia is a virgin but Benedick is not, having been somewhat of a playboy before taking his vows to serve the church . He treats her in a gentle and respectful manner, even while showing her the heights of physical pleasure. He has to do a little convincing to make Sophia consider marrying him, as she worries that her art, which aims to show some of the realities of life for the poor, will be too controversial for a vicar's wife. But Benedick values Sophia for all of her talents and her generous and forthright character, making him definite hero material.
The mystery plot has some interested twists and turns and while not overly suspenseful, was definitely intriguing. I enjoyed meeting Benedick's brothers and the camaraderie between Sophia, her sister Gemma, and the other two now married women living in the Beauchamp house. All the women in the series have traits that make them stand out for their time, feminists of their day, and are lucky enough to find men who appreciate them. I'm looking forward to continuing the series, and seeing Sophia's sister Gemma, a geologist, get her happy ending too.

Book Info:

Publication: Jan 30, 2018 | St. Martins | Studies in Scandal #3
THE PICTURE OF ROMANCE
A dedicated painter, Miss Sophia Hastings is far more concerned with finding the right slant of light than in finding Mr. Right. But when an overhead conversation hints at danger for another local artist, Sophia is determined to get involved. Even it means accepting help from an impossibly good-looking vicar who insists on joining her investigation—and threatens to capture her heart…
Reverend Lord Benedick Lisle knows that Sophia is no damsel in distress. But he won't allow her to venture into peril alone, either. . .especially since he finds Sophia's curious, free-spirited nature so alluring. But protecting her from harm is becoming more difficult than the vicar could have expected as he and Sophia confront their fiery mutual passion. Who could have known that the art of love would prove so irresistible?