In A Taste of Trouble by Gina Gordon Self-taught baking prodigy Liv Crawford is fulfilling her lifetime dream of owning her own cupcake business. As she struggles to make it through the paperwork, inspections and financial barriers, her personal life is the furthest thing from her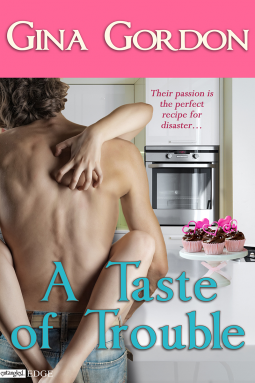 mind. That is, until she meets gorgeous PR executive Jake Miller while bartending one evening. The attraction is instantaneous and intense. She must decide if she wants a casual fling or if she can overcome her trust issues enough to finally enter into a relationship.
Jake has been given a mission by his boss: he wants a meeting with the up-and-coming baker. If Jake can get her to agree then he will be granted a promotion which puts him closer to his dream job. But the moment Jake meets Liv, things become complicated. He can't deny the spark he feels for her. And although he should tell her right away about the business meeting he has been sent to set up, he wants to get to know her on a personal level even more. Surprisingly, as they spend time together, they both realize this is much more than just physical attraction. Neither of them have been in a relationship before and they each struggle to with their feelings internally.
I really enjoyed this story. It was sexy and delectable! (pun intended) The characters were easy to relate to and were a good match together. Deep down they both were romantics at heart even though they put up a strong front. They believed ultimately there was a HEA out there for themselves, like I hope most of us do. I also think there is something very steamy and naughty with plotlines revolving around food/restaurants. Cooks are very creative and passionate with everything they do. 'Nuff said. I would definitely recommend this if you are looking for a fun, flirty, heartfelt read.
Rating: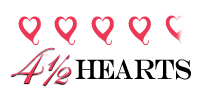 Book Info: Published February 18th 2013 by Entangled Publishing, LLC
When Liv Crawford decided to pursue her dream of owning her own bakery, it was no surprise that she forgot to add "maintaining a serious relationship" to her business plan. Not when she believes a cupcake can fix anything, even loneliness.
Jake Miller isn't concerned about being lonely. He's cast aside his playboy lifestyle to pursue something more meaningful, his passion for photography. So, when his boss asks him to pursue a beautiful woman and coerce her to his office for a disguised meeting—no matter what it takes—in exchange for the opportunity to turn his hobby into a career, he jumps at the chance. At first sight, Liv awakens his long-buried desire for commitment, but his secret mission could ruin his hopes of keeping her.
Despite Liv's commitment to swear off relationships to run her bakery, Jake quickly becomes her number one distraction. Yet, even her misgivings can't tame the heat as they straddle the line between love and ambition