A Vow to Claim His Hidden Son by Maya Blake is full of fiery passion and drama that Maya Blake is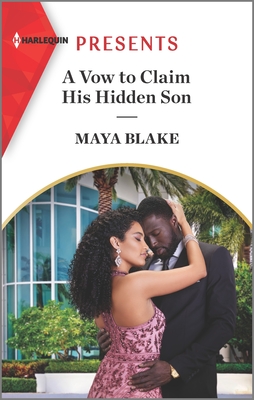 renowned for.
I adore dramatic opening chapters and A Vow to Claim His Hidden Son was dripping with drama and intrigue and the "Hidden Son" hadn't even been discovered yet! Shocked by an unexpected pregnancy Eva flies to Ekow's home only to be tossed out by his father. Thinking Ekow knew about his son, Eva is stunned when he arrives on her doorstep 18 months later and knows nothing of Leo's existence.
Originally refusing Ekows' hand in marriage, Eva thinks twice when Ekow offers to take care of her little brother's education. Her genius little brother who is also the reason behind Ekow and Eva coming face to face again. During a luxurious honeymoon they become closer and Eva's alarm bells are growing steadily louder as she realises her heart is becoming involved. Fearing she will fall deeper in love with a man who doesn't love her back, Eva reverts back to self preserved distancing. Opening your heart to love is one challenge Ekow isn't sure he's ready for.
Maya Blake's writing is always emotionally charged and I love it. The journey is always exciting and the dialogue is infused with passion. I love the drama and the voyage I'm taken on as a reader. A Vow to Claim his Hidden Son is dramatic, passionate and attention grabbing in all the right ways. I loved it!
Book Info:

Publication: June 2022 | Harlequin Presents | Ghana's Most Eligible Billionaires #2
Eighteen months after one incredible night, tycoon Ekow Quayson can't get Evangeline Annan off his mind. But after a shock reunion puts them face-to-face, they're united by more than their burning desire… Eva's had his baby!
She was forced to hide her pregnancy, but now Eva will wear Ekow's ring for the sake of their son. For the sake of her heart, she demands a marriage in name only. Yet, when they're alone, Ekow's touch might prove too irresistible to deny their marital bed…
Read all the Ghana's Most Eligible Billionaires books:
Book 1: Bound by Her Rival's Baby
Book 2: A Vow to Claim His Hidden Son