The History of Us by Jennifer Bardsley: Andrea loves her simple small town life, with great views and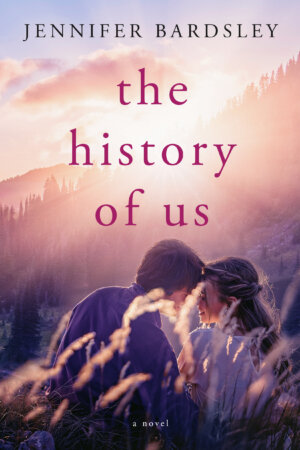 easy access to her father at the mental care facility what more could a girl really ask for? But when someone breaks into her house Andrea is not worried about anything other than a set of old coins that mean the world to her father and are the one thing that helps being him out of his Alzheimer's fog. Determined to find these precious coins Andrea enlists the help of her former high school sweetheart Dustin to help her track down the missing coins. Somewhere between searching the Pacific Northwest for the coin some old feelings begin to resurface and Dustin and Andrea are forced to wonder if just maybe their happily ever after could still be minted…
Let me start off by saying the cover of this book is what first caught my eye and once I got reading I just could not help but fall in love with Andrea and Dustin as they found their way back to each other and their happily ever after. There was just something so warm and comforting about this book even with heavy topics of mental health, gambling addiction and abandonment laced though the story there was just something so warm and touching about the way these two characters found their way to each other and the way their story played out.
Gosh did my heart just go out to Andrea, it is not easy to watching one of the most important people in your life slowly wilt away and loss the person that they have always been, but she does a great job at helping him and caring for him the best way that she can. In this aspect I have to say Bardsley has done an amazing job with depicting the real struggles that both the person who has Alzheimers feels as well as the journey that their family has to go through, this was a very relatable and touching part of the novel that was handled with a lot of care and respect. For the most part I found that Andrea was the support structure in her family and that she had to be the strong one which only made me admire her all the more.
Now I have to say that I liked that Dustin had more involved role in the entire chase for the coin thief, rather than it just being about him winning back an old flame. You see Dustin suspects that it was his brother in law that stole the coins, upped and left his sister and the kids all to feed his gambling and alcohol addiction. If this wasn't reason enough to get his hands on this no good thief, Dustin can't help but feel the need to help Tom in anyway possible after he helped represent Dustin and his siblings when they were just kids. I really enjoyed getting to see their chemistry and connection come back to life and have both Dustin and Andrea realise that there is definitely still some feelings between them.
For the most part this book moved at a really good pace but it did lose a bit of momentum in the middle but things did pick up again towards the end. The only thing missing from this book was the steam factor, this was a pretty closed door romance. However in saying this I really did enjoy the sweet wholesome romance that played out in The History Of Us.
Book Info:

Publication: July 12, 2022 | Montlake |
Andrea Wint's life in the small town of Port Inez, Washington, is a simple one. She works, enjoys the gorgeous view from her bay window, and visits her dad at the memory-care facility. Her father is in the late stages of Alzheimer's, but Andrea brings in one coin from his valuable collection every day—little bits of precious metals that seem to bring him back to himself, even if just for a few moments.
So when Andrea's house is burgled and the coins disappear, she's bereft.
To track down the culprit, she turns to Dustin Karlsson, who just happens to be her former high school sweetheart. Years ago, they broke each other's hearts, and some wounds are slow to heal. But Dustin feels indebted to the ailing Tom Wint and wants to help.
What's more, Dustin has a personal stake in finding the perpetrator. In fact, he suspects the thief could be his own brother-in-law, a gambler and a drunk who skipped town, leaving Dustin's sister and two young nieces behind.
As Dustin and Andrea travel the Pacific Northwest in an effort to recover the missing coins, old feelings rekindle. Maybe their happily ever after can still be minted.