In Promise from a Cowboy by C. J. Carmichael, Savannah Moody has worked hard to become the Sheriff of Coffee Creek and to be respected and looked up to by everyone, not be looked down and judged like she was when she was younger. The only thing shedoesn't like about her job is when she has to give bad news, and the story begins with her coming into the church before a wedding to tell the Lambert family that the groom, B.J.'s brother has been in a car accident and died instantly.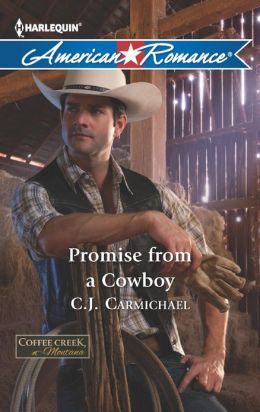 B.J. has never forgotten or stopped loving Savannah, his first love, no matter how many years apart they have been. Now that he has seen her at the rodeo, even if she was looking for her brother, he knows that he needs to head back home and see if there is a chance that they can be together again.
But things are not going to be easy for B.J. and Savannah, for the past is coming back to haunt them. Eighteen years ago, during their senior year, B.J. and Savannah's twin brother Hunter went on to party with some classmates. Savannah was supposed to go with them, but she had to stay home to babysit her little sister, and Hunter took advantage of this to take them all to an abandoned barn to drink illegally. But when a sudden storm blew in, an unexpected thunderbolt started a fire killing a young man that was in the barn.
Now there is an investigation, because the identity of John Doe may just turn up to be that of the son of a rich man who will not stop until he gets to the bottom of why his son was in Montana and how he turned up to be in that barn in the middle of nowhere. And the truth that B.J. and Hunter have been hiding for eighteen years may just come to light. But B.J. will have to decide which choice will be best, telling the truth and hurting Savannah or hiding it and being wrongly accused of something that he didn't do.
Lies, intrigue and love abound, and it will take a lot of courage for this hero to make the best choice that can either bring him the love of his life back or loose her forever. But only him, for she will have to take the blindfold she has always worn with her loyalty and responsibility and realize that not everything can be as she wishes every step in life.
If you want a very entertaining read that will keep you hooked, don't miss Promise from a Cowboy by C.J. Carmichael.
Book Info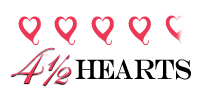 Publication Date: July 1, 2013 | Series: Harlequin American Romance (Book 1460)
A Cowboy With Something To Hide…
On the rodeo circuit, B. J. Lambert had plenty of chances to forget about his first love. Back in Coffee Creek, it's impossible. Savannah Moody is as irresistible to B.J. as when they were teens. He'd still do anything for her—except give up the secret he promised to keep.
Sheriff Savannah Moody knows B.J. is hiding something. Not his feelings for her—it's obvious to both of them that the attraction is as strong as ever. But she simply can't afford to give in. She has her sister to care for, and the family land, and B.J. might be gone tomorrow. She also has a job to do: to pursue the truth and discover what really happened eighteen years ago when a barn burned and a man died. Even if it costs her dearly….