A Widow's Hope Vannetta Chapman has long been one of my favorite authors in the Amish genre. I enjoy all of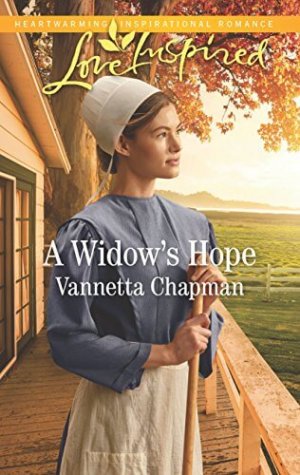 her full length romance and suspense novels about the Amish. With Ms. Chapman now also writing for Love Inspired, reading "A Widow's Hope" is a special treat.
In "A Widow's Hope", Hannah and her young son have moved in with her parents after Hannah's husband was killed in a farming accident which left her son Matthew paralyzed and wheelchair dependent. Hannah and Jacob, who grew up together, become reacquainted when he comes to her parents home to build a special wooden playhouse for Jacob in the shape of a train. Jacob is a carpenter by trade, but has a passion for building playhouses for children with special needs or illnesses. While at first this might seem a strange past time for an Amish man, it really is not, considering their love for and wholehearted acceptance of people with special needs. The Amish truly consider them very special and important.
Jacob needs assistance with his accounting books, and when he discovers Hannah and her parents are in financial need, hires Hannah to help reconcile his ledgers- as he recalls her strengths in math and bookkeeping. And all along, he and Matthew develop a tight friendship. Hannah is quite resistant to this, as she does not want Matthew to depend on Jacob or any man besides Hannah's father.
Will Hannah and Jacob find a way to trust each other, and to seek a friendship and possibly more? This is a story I highly recommend as it is touching and so well written.

Book Info:

Publication: July 17, 2018 | Love Inspired  | Indiana Amish Brides #1
His scars are visible. Hers are hidden… An Indiana Amish Brides matchAfter tragedy claimed her husband's life and her son's ability to walk, Hannah King doesn't want a new man. She has her family, a home and mounting debts. Scarred Amish bachelor Jacob Schrock offers Hannah the job she desperately needs. But while Hannah helps Jacob resolve his accounting issues, can she and her little boy also heal his wounded heart?