Head Over Heels by Serena Bell is a fun and sexy romantic comedy with a 'friends to lovers' theme and a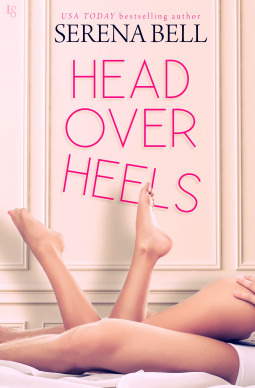 single dad who discovers the woman he wants has been there all along.
Chase Crayton is in a bit of a bind. He's recently become the sole parent to his five year old daughter Katie and he needs someone to help him at home. While searching for a full time nanny, he asks his best friend Liv Stratten, currently couch surfing while waiting to start her new marketing job a few states away if she'd consider being Katie's live-in caretaker for the few weeks until she leaves. It would give Liv a place to stay and she'd earn some money before heading off. Plus, they'd get to spend some time together.
Liv knew right away when she and Chase went on their ill-fated blind date that they were meant to be just friends. Or were they? Because now that she's moved in, there's a spark of attraction that they'd somehow avoided before. A friends with benefits arrangement suits them both, with the promise that their friendship won't change. But when it's time for her to go, will it be so easy to say goodbye?
I love reading Serena Bell romances. She writes high quality, thoroughly enjoyable stories with the right mix of laughs, possibly a few tears (she always manages to pull a few out of me) and characters who are people you would want to have in your life. Ivy and Chase are great examples. Likable, friendly and easy going, they have an opposites attract friendship. They have different tastes in movies and restaurants but it makes for lots of banter and teasing.
Both Liv and Chase have their share of issues. Chase's ADHD in school made for frustrations for him, his teachers and his parents. As a result, Chase's dad didn't trust Chase to not screw up his company and sold it, leaving Chase to find something else. The outdoors is his calling, and working at a sporting goods store is enjoyable and fulfilling, though he hasn't been able to make the leap to purchase it outright from his boss who wants to sell. The lack of confidence from those around him that he experienced when he was younger still resonates and makes him question whether he wants to be tied down to a permanent business. But he knows one thing – he'll do anything to make his daughter happy. He's a great dad, concerned and caring, willing to play dress up and calm her nightmares.
Liv grew up in a succession of foster homes after the early death of her mother. She learned that the only home you have is the one you bring with you, and not to rely on people to make you feel safe. While she and Chase have had an awesome friendship, when it turns to something more it's a scary feeling. Their love scenes are steamy and passionate, but when they connect emotionally Liv has to decide whether it's worth the risk to trust in Chase that he won't let her fall. Her relationship with Katie is sweet, and they bond quickly. In the end she decides that home is indeed where the heart is and we get a lovely happy ending for this new family. While it is a standalone romance, Chase's friend Jack is from Ms. Bell's equally enjoyable second chance romance Do Over and I'm hoping his other friend Brooks is in the running for a happy ever after too!
Book Info:

Publication: June 5, 2018 | Loveswept |
They thought they were wrong for each other. That was before she moved in. . . .
Chase: Take it from me, never hire your best friend to be your live-in nanny. Because it's a lot easier to be friends with a woman who isn't prancing around your house in yoga pants. As a newly full-time dad, I needed help fast. I knew she was good with kids. And I thought things between us were strictly platonic. Now, with Olivia Stratten crashing in my guest room and steaming up the bathroom with the scent of her shampoo, it's getting harder and harder—no pun intended—to remember all the reasons we're supposed to be incompatible.
Liv: When Chase Crayton asked me to watch his five-year-old daughter until he could find someone full-time, I was afraid we'd drive each other nuts. But with Chase's job on the line, I couldn't say no. What I didn't anticipate was how combustible our chemistry would be in close quarters. Neither of us did. After all, we first met on a blind date, and by the end of it, we were laughing about how terrible we'd be as a couple. In the two years since, nothing ever happened between us, not even a kiss—not until last night. . . .