A Wolf Apart by Maria Vale is the second story in the author's paranormal romance series The Legend of All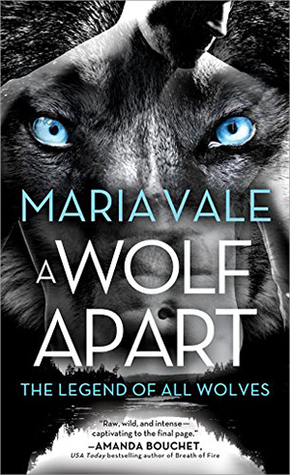 Wolves. It takes place shortly after the end of The Last Wolf. The general plot information from book one is revealed in book two so if you prefer to read series in order you'll definitely want to read book one first to avoid spoilers. I'm not a stickler for reading order so though I hadn't read The Last Wolf I found A Wolf Apart worked well as a standalone. It's a fascinating and unique romance about an alpha male who finds a woman who can handle his true self.
In this series there are three types of wolves that roam the earth. There are forever wolves who always exist in wolf form, shifter wolves who can change from wolf to human form at will, and werewolves who can exist in human or wolf form but have no choice but to change into wolf form for 3 days every month around the Iron (full) moon.
Elijah Sorensson is a werewolf, alpha of the 9th Echelon of the Great North Pack. The pack has recently suffered a great loss in a fight with shifters and humans that cost them their main gathering place, the Great Hall. It's being rebuilt, but it's a slow process and compounding that is their Pack's difficulty in successfully birthing live pups. For twenty three years Elijah has been Offland, away from his home, and working as a lawyer with a Pack run firm. Being in skin for so long with the exception of the three days when he must become his wolf form wears on any man, and Elijah is feeling a longing to be home. Seduction comes easy for him, but he is increasingly dissatisfied with easy sex from willing women who don't understand who he really is.
Elijah ends up taking a case for a woman, Thea Villalobos, who is an environmental conservation officer. She's being sued for springing body traps left on the ground by her neighbour, traps set for wolves. She's been caught on video trespassing on his land, but not actually setting off the traps. Elijah is drawn to Thea in a way he has never experienced and not just because she is protecting forever wolves. She's not taken in by his charm or easy lines, a strong self sufficient woman who lives in a remote cabin eschewing most of society's comforts. Helping her with her case is the first step to a relationship. But revealing his true self to her, a human, is forbidden, and the Pack's rules say if she discovers it she must be killed. Is there any way for them to get a happy ending?
I found this story enthralling from the start! The world building is really unique, and very different from any other paranormal romance I've read. Most of them have been shifter romances, and the distinction here with Elijah being unable to stop himself from entering his natural wolf form every month is quite marked. It's a much more visceral story too, detailing the life of a predator and not shying away from the more animal instincts that involves, including hunting and devouring of prey. Wolf form really is Elijah's natural state and unless there is a reason to stay in human form, he's ready to return home. Of course, that reason comes with meeting Thea.
Unlike many shifter romances there is no fated mate storyline here. Thea is not destined to be with Elijah, and feels no attraction to him at first, instead finding his persona as a smooth and charming alpha male unimpressive. The story is told all from Elijah's point of view and he realizes he must do something different to get Thea to be interested in him. He doesn't see her as his mate at the start but he does recognize that she is different from other human females. She lives a life that appeals to his wolf side, and when they eventually do have sex, it's not something he wants to forget, unlike with other women. Of course he makes mistakes, and has to pay for them by grovelling and proving to her that she means something to him. And to do this he must also reveal some of his vulnerabilities.
Eventually Thea does find out about Elijah's real nature and it leads to some dramatic scenes as Elijah is willing to risk all to protect her. Their happy ending is hard won but worth it. I definitely recommend this story if you're a fan of paranormal romances with unique world building. I'm excited to go back and read the first in the series, and hope the author has more planned for this world!
Book Info:

Publication: July 31, 2018 | Sourcebooks Casablanca | The Legend of All Wolves #2
Can a human truly make room in her heart for the Wild?
Thea Villalobos has long since given up trying to be what others expect of her. So in Elijah Sorensson she can see through the man of the world to a man who is passionate to the point of heartbreak. But something inside him is dying…
Elijah Sorensson has all kinds of outward success: bespoke suits, designer New York City apartment, women clamoring for his attention. Except Elijah despises the human life he's forced to endure. He's Alpha of his generation of the Great North Pack, and the wolf inside him will no longer be restrained…