About That Night by Laura Brown is the second book in the Matzah Ball Surprise series, but it was fine as a stand-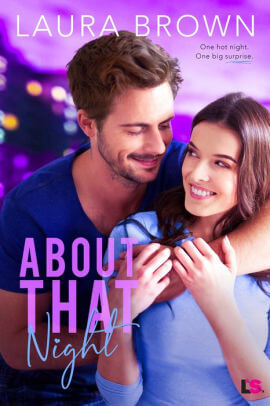 alone. It was well written with a storyline that was developed. The characters were genuine, and the author allowed us to see the perspective from a Deaf person's view. It was interesting learning some of the adaptations used by a Deaf person to do everyday things we take for granted. Such as turning the light in a room off then on instead of knocking on the door.
Izzy Fineberg found herself pregnant after spending one night with a hot Deaf man at a Deaf event. She did not catch his entire name since she was still learning ASL, so she was not able to contact him to let him know she was pregnant. Now she is starting a new job at a Deaf agency and finds out her new boss is the father of Archie, her son. The agency has a strict "no dating coworkers" policy which makes it difficult since the attraction between the two of them is still strong.
Nolan Holtzman had not been able to get Izzy out of his thoughts but never expected her to show up at the agency he just started working at. Learning she was the new office assistant and he was a father was a huge shock. His own father had never been a part of his life, but he was determined to be there for his son. When Izzy needed a place to stay, he volunteered for them to stay with him. He thought things were finally working out for him but keeping his relationship with Archie and Izzy a secret was getting difficult. Both needed their jobs, but they wanted to be together as a family also. Eventually, their secret is revealed, and their jobs are on the line.
This was a short book but an enjoyable one to read. It was easy to connect with the characters. Being a single mom, Izzy had to be strong. She took her responsibilities seriously and was ready for all the challenges her new job presented. Nolan was a sweet guy but lacked self-esteem. Nolan believed he had bad luck and was always messing up. He let that guide him through life, but Izzy's confidence in him helped to give him more confidence in himself. He had to learn that things happen and instead of giving up, he needed to keep trying. Izzy and Nolan were perfect for each other.
Book Info:
Publication: February 8th 2021 | Entangled: Lovestruck |

Izzy Fineberg can take on any challenge—and she's had some big ones lately. After one fateful night with the hottest Deaf man she'd ever met, Izzy found she was pregnant with his child. And she never caught his name. She's been doing the single mom thing for nine months now, and surely, nothing could be more challenging than that. But her first day at her new job, she meets her supervisor…and recognizes him immediately.
Nolan Holtzman never expected to see Izzy again, and now, she's the new hire at the agency he works in. He'd think things were finally going his way for once, if not for the iron-clad ban on interoffice dating. He'll have to keep his distance from her if he wants to keep his dream job helping the Deaf community. Much easier said than done when Izzy drops the bomb that she's a single parent…of his son.
It's the shock of his life, but that won't stop him from stepping up to be a dad. So when Izzy is suddenly in need of a place to stay for a week, Nolan invites her and the baby to his home. But even as difficult as it is, keeping their little family a secret from their employer isn't their biggest challenge ahead…