In Accidental Lies by Dana Mason, Emily is sent on a vacation to Hawaii by her brother, who is worried she's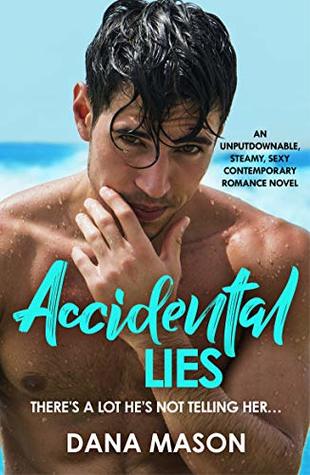 not moving on from her husband's death four years earlier. There she meets Drew, a widowed single father of two, on vacation while the children are with their agreed upon three-week visit with their grandparents. The two agree to a no-strings attached affair, but when they return to reality and realize Drew is the contractor that was supposed to work on repairs to her new law office. The two agree to pick up where they left off, without sharing personal information. But when the truth comes out, will their budding relationship be able to survive?
First off, the book probably should have been called Lies by Omission, because the lies told were not accidental. When Emily breaks the rules and opens up about her husband, Drew still doesn't tell her that his wife died. Instead, he lets her think that he's divorced. And when his daughter, Hannah, calls him while on vacation, he tells her that Hannah and Kyle are his roommates, not his children. For most of the book he doesn't admit that he has children until she sees them together, leading her to believe that he's only a weekend father, with their mother having custody the rest of the time. I understood he had been burned by women in the past who didn't want to be with him because of his children, but he should have given Emily the chance to decide for herself.
He can't even bring himself to tell her the truth about his wife; his sister ends up telling Emily, and only because Emily mistakenly thought she was Hannah and Kyle's mother. Yet, he gets made at Emily for something when, in actuality, she had more of a right to be mad at him.
Emily is in the wrong in this book, too. Instead of telling Drew about what was going on, she goes against the advice of her brother and her friend, and jumps to an assumption which leads to her upsetting Drew. While neither one of them was blameless, if she just talked to him, they could have worked something out instead of causing a fight between them. Also, when Drew finally decides to try to come clean, she kept pushing it aside, telling him they didn't need to talk about the past. So, in a way, she's to blame for not being told the truth, too, because she wouldn't give him a chance.
Ultimately this book wasn't for me. It would have been one thing to initially keep the children a secret when it was just an island fling, but once they decided to try to have a relationship, Drew should have come clean. When Emily tried to shut down the conversation, Drew should have tried harder and demand she listen to the truth. As it was, I didn't like the behavior of either of the characters. I liked the kids more and they weren't even in the book a lot, and I felt for them since their own father felt they had to be kept as a secret.
Book Info:

Publication: August 7, 2019 | Bookouture | Accidental Love #2
Three blissful weeks on the beautiful island of Maui are exactly what I need… Hula dancers, Mai Tais with cocktail umbrellas, and golden beaches – what more could I want?
Then I see her, and I realize she's exactly what I want.
She was locked outside of her hotel room, all buttoned-up in a suit definitely not appropriate for a vacation, and wearing a fierce take-no-shit stance. But I couldn't help noticing the pain behind her eyes…
Four Mai Tais later, the chemistry between us is hotter than the Hawaiian sun, and we decide to spend the rest of our vacation unwinding, undressing, and getting to know each other a little better…
We have just two rules:
1) No talking about our lives outside Maui.
2) This is just a vacation fling.
That means I can't tell her about the heartbreak that haunts me, and the secret I have back home. It means I can't ask her about the sorrow in her eyes, and why she has such a wall up – a wall I'm determined to bring crashing down.
When the sun sets on our trip, can I say goodbye to this gorgeous blue-eyed beauty? Or am I going to be tempted to break the rules?
And if I do decide to be a rule-breaker, will she even want me when she finds out who I really am?