In Blood Truth (Black Dagger Legacy #4) by J.R. Ward, Joining the Black Dagger Brotherhood as a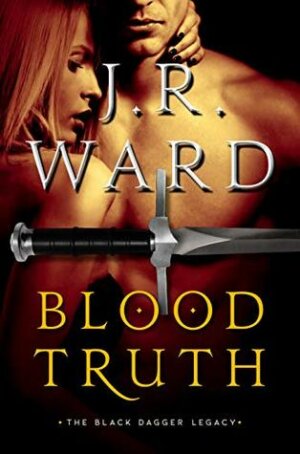 trainee might not have seemed a logical choice for Boone considering his wealthy upbringing, but he has learned more about himself in his short time with the Brothers than he ever did with family. But now he finds himself reeling again after a murder at a local club has Boone investigating the scene with Brother Butch O'Neal. Not only has his sire's recent passing brought up regrets about his past, but he comes face to face with a beautiful woman in the depths of grief. Helania is someone whom Boone is drawn to, time and again. Even though the investigation means he should probably keep his distance.
'He and this stranger were united by the fact that they were both chained by grief. Self-doubt. Regret.'
Ever since Helania's older sister Isobel was killed at a local club eight months ago, she has been handling it the best way she knows how: by actively staking out the club to find the one responsible and make them pay. But when another woman is murdered at the club, with Helania not able to save her in time, she turns to the Brotherhood for help. Only she didn't realize that one of the investigators would be the man of her dreams. Talk about bad timing. Both still dealing with recent losses, Helania connects with Boone on a level she's never experienced before. And as the truth of what really happened to the slain women and who might just be behind it all starts to become clear, she'll need to learn that standing on her own is important, but so is working together to take care of those she cherishes.
'So they were both drunk on each other, she thought. Good to know she wasn't alone in the crazy.'
This newest installment in the Black Dagger Legacy kept me guessing with its surprising plot twists, and of course had the incredible level of storytelling I have come to count on from J.R. Ward.
'Sometimes, to have faith in yourself, you had to have someone light that path for you.'
First, this book pretty much picked up where the last Black Dagger Brotherhood book, The Savior, left off so it would be easier to get into the story here if you've read that. If not, enough of the background is included that, with some patience, you can pick it up. Secondly, holy cow what a twisting, turning, dark but fascinating story Blood Truth was! We had several POVs, with the main ones being Boone, Helania, and Butch. And what a varied group they were. I really liked all three of them overall, although Boone at the beginning made me wonder a bit where it seemed he was more aristocratic than badass. Or so I thought. He proved me wrong, though, and was a wonderfully decent and courageous man who had not had it easy in life–despite coming from a family of privilege.
Helania was one of my favorite types of heroines, to be honest. She was admittedly introverted. She didn't necessarily believe her own strength, mentally or emotionally, at the start of the story. But by the end she proved to herself–and everyone else–just how strong she could be. I loved watching her come into her own just as much as I loved seeing Helania get side-swiped by love. Boone was a good match for her. Even though there was some angst over the many issues they faced, I thought they made a solid pair who worked quite well together, with just one rather large miscommunication between them that was quickly resolved.
In addition to Syn and several of the Brothers we got to catch up with, we also got some in-depth face time with Butch O'Neal. I've always thought he was an interesting character, with a tortured past like most of our (anti)heroes, but who has found some happy in his life. I think with Butch showing Boone the ropes of investigating, and with them–and Helania–having so much in common over their tragic pasts, I like to think it helped them all, but especially Butch, heal a bit more by the end of the book.
Fast-moving and with an ending that was so perfect this reader might have been a little misty-eyed, Blood Truth was a shining example of why J.R. Ward's work remains so popular with fans.
Book Info:

Publication: August 13th 2019 | Simon & Schuster | Black Dagger Legacy #4
As a trainee in the Black Dagger Brotherhood's program, Boone has triumphed as a soldier and now fights side by side with the Brothers. Following his sire's unexpected death, he is taken off rotation against his protests—and he finds himself working with Butch O'Neal, former homicide cop, to catch a serial killer: Someone is targeting females of the species at a live action role play club. When the Brotherhood is called in to help, Boone insists on being a part of the effort—and the last thing he expects is to meet an enticing, mysterious female…who changes his life forever.
Ever since her sister was murdered at the club, Helaine has been committed to finding the killer, no matter the danger she faces. When she crosses paths with Boone, she doesn't know whether to trust him or not—and then she has no choice. As she herself becomes a target, and someone close to the Brotherhood is identified as the prime suspect, the two must work to together to solve the mystery…before it's too late. Will a madman come between the lovers or will true love and goodness triumph over a very mortal evil?