Acting Lessons by Katie Allen is book one in the Off Guard series and will have readers in stitches as they read about the antics, the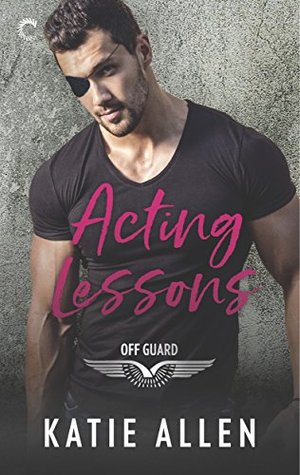 characters go through. Seriously…this book had me laughing throughout most of the book with its charming characters and witty dialogue.
Topher is a struggling actress who works as a barista during the day. When her wealthy friend, Danny, comes to her with a proposition that will guarantee her a lot of money, Topher is intrigued. All she has to do is pretend to be Danny's girlfriend and allow him to show her off to his uncle. Sounds easy enough, except Danny wants her to play a ditzy girl who his uncle will hate. Danny thinks if his family hates Topher, they will accept his current girlfriend, who's no prize. Topher accepts the job and many, many hilarious moments follow.
Uncle Jamie, is Danny's uncle, and immediately likes Topher. Don't get me wrong, Topher plays her part well, but Jamie see's through her act. When complications arise, Topher and Jamie must pretend to be a couple, but it doesn't take long for everything to turn real.
I loved Topher. She played her part effortlessly. She was endearing, honest, and such a likable character. She does need new friends, though, because Danny was completely immature and doesn't need to be in any kind of relationship until he grows up a bit. Uncle Jamie, on the other hand, is serious, sexy, and dominant. Together, Topher and Uncle Jamie made a great couple. They both have needs that the other one is able to fulfill.
I want to foreworn readers that this story does include age play and there are some moments where our main characters use the word "daddy" but it's nothing over the top. I had no issues with it, but just in case others have a problem with it, the warning is there. Acting Lessons is a fun and sexy read that I would definitely read again. Looking forward to the next book in this series.
Book Info:

Publication: November 6th 2017 | Carina Press | Off Guard #1
It's an offer she can't refuse. Two weeks of work for enough cash to quit her day job and focus on auditions is a dream come true for struggling actress Topher. All she has to do is play girlfriend to a wealthy friend, helping him secure his trust fund. Then she meets her friend's sinfully handsome, firmly off-limits uncle, and all bets are off.
Not only is Uncle James surprisingly younger than imagined, he's charismatic and hot as hell. And there's something about the wounded veteran's hungry stare that has her thinking the feeling is mutual.
Topher's determined to ignore Uncle Sexy, but the forbidden temptation is too much to handle, especially after James flashes his dominant side. But surrendering to temptation is easier said than done when the plot thickens. Even if Topher can manage to fool everyone involved, she's not sure she can fool her own heart—or the man she's definitely not supposed to be falling for.