One Night Stand Bride by Kat Cantrell is part of her In Name Only trilogy, and features a marriage of convenience between two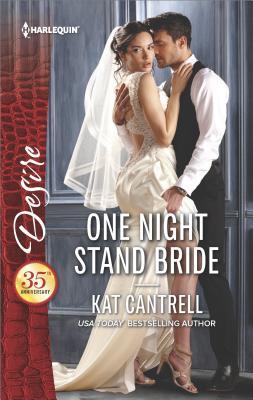 characters who have a wild night in Vegas, with repercussions that follow them home.
When Hendrix Harris and Rosalind Carpenter spend a memorable night together, things get a little out of hand, and their hot tub foray becomes paparazzi fodder. With Hendrix's mother running for Governor, and Roz coming from a high society family, they've been in each other's social circles for years but hadn't taken the plunge to anything more. Neither of them regrets what happened in Vegas, but they hadn't planned a repeat either. Still, to repair their reputations for the sake of their families, they agree to a limited time marriage of convenience.
The weeks leading up to their wedding day include a promise on playboy Hendrix's part to stay celibate. (Truth be told he's not interested in anyone else anyway, though he'd have been happy to spend another night or two with Roz). But once he gets his bride in his arms? All bets are off. Still a marriage for political and personal gain isn't exactly a love match. Will the time they spend getting to know each other and rekindling their passion make them reconsider an expiry date on their marriage?
I really enjoyed the first story in this trilogy (Best Friend Bride with Jonas and Viv) and was looking forward to reading Hendrix's story too! Hendrix, Jonas, and Warren are three best friends who've made a pact not to fall in love but Jonas has already fought the game of love and lost. Hendrix is torn between loyalty to his friends, and his growing feelings for Roz. They had such a fun and sexy night together that he could admit to himself he was a bit crushed when she didn't want a repeat. But they are in a position to help each other and since they are both responsible for the scandal in the society pages they both feel a responsibility to fix it.
The sex scenes are pretty steamy, but well balanced with the overall story. Rosalind has some of her own fears to conquer and has taken on a career that pushes her to face them. Hendrix supports and encourages her, and becomes a buffer between her and her demanding father. I loved seeing this protective side of Hendrix, and how he comes to really care for Rosalind (and vice versa). The story moves at a swift pace and was hard to put down! They get a lovely happy ending, and I am ready for Warren's book next!
Book Info:

Publication: Oct 01, 2017 | Harlequin Desire | In Name Only #2
The Paparazzi Proposal
Their one-night stand made the headlines. Now playboy Hendrix Harris decides marrying the lady in question will stop the rumors from derailing his family's political ambitions. Rosalind Carpenter, with her pedigreed background, will make the perfect bride…and she drives him wild. But Roz will only say "I do" if they stay chaste until after the vows. The temptation may be more than he can stand…especially when he starts to fall for his wife.