Affairs of State by Jennifer Lewis was more of a storybook romance, with the hero being English Royalty. Grandson to the Queen no less. And Ariella recently discovered that her birth father is the US President. Her story has been unfolding in the previous novels, and she appears on Television with her famous dad in this book.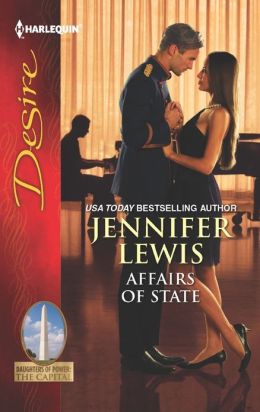 I found the birth parent storyline to be quite touching. She meets both of her birth parents, and it turns out they're soulmates. They become the side story, and it's very sweet. The romance that builds between Ariella and Simon was tentative, but heartwarming.
He approaches her at one of the parties she's planned, being the co-owner of DC Affairs – and comes up with the excuse of needing an event planner for his charity on the spot. In truth, he fell a little in love with her across the room, and just needed to meet her.
Neither of them care about their notoriety, but Simon does help her to navigate her newly famous situation. There aren't any lies between them, no major angst, and only a few stumbling blocks, but they're definitely doozies.
Simon's uncle, who isn't technically royal, decides to do some meddling. He manages to pull Ariella aside and inform her that she could ruin Simon's life. She almost decides to break things off, but his persistence and a huge surprise convince her to stick around.
Affairs of State is the conclusion to the "Daughters of Power: The Capital" series. Not rocket science, but a cute & charming end to a pretty good series.
Book Info
Publication Date: June 4, 2013 | Series: Harlequin Desire (Book 2234)
American RoyaltyFirst she discovers she's the secret daughter of the American president, then she falls for a British prince. Ariella Winthrop's life can't get much more complicated. Or can it?Having fun with Simon Worth—passionate meetings, hiding their attraction from the public—is one thing. But getting serious? The British monarchy certainly doesn't want their beloved prince dating an American, much less one with her fair share of scandals. But when Ariella discovers she's pregnant with a royal baby, all bets are off. This woman is fighting for what is hers.