Fair Play by Tracy A. Ward: Ashlyn and Noah have known each other for years, but for the past few years, Ashlyn has, as she says 'hated' Noah for what she perceives as wrongs he's done. By a quirk of fate (or is it fate?) they both end up in small town Phair, Texas. Ashlyn is a struggling playwright and Noah is running a bar in on of the chains he owns. Ashlyn sees her move to Phair as her last chance to prove herself as a playwright – to critics, the public, and most of all to her father. If she doesn't succeed as a playwright by her 30th birthday she has a contract with her father that means she will forfeit her significant inheritance.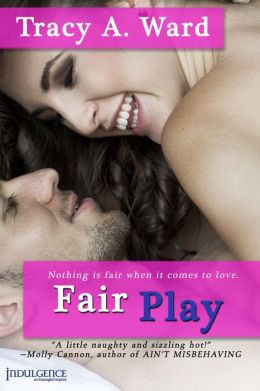 The upcoming festival in Phair is her last chance to make it, but it seems like obstacles keep popping up! From writer's block, to someone from her past she'd hoped to never see again showing up, Ashlyn is struggling. The theatre owner Lucas sees this…but he also sees what Ashlyn will not see – he insists Noah is her muse. For Lucas to agree to wait for Ashlyn to finish her manuscript and let her stay with the theatre, he elicits an agreement with Noah and Ashlyn that they must work together, in the hopes that Noah will inspire Ashlyn.
Reluctantly, Ashlyn and Noah agree to do this despite both of their misgivings. For although Ashlyn proclaims to hate Noah and Noah refuses to admit to any attraction to Ashlyn (after all, she is his best friends sister), there is something between them. They go from playing the parts of the characters (Andy and Caroline) Ashlyn is writing about to wondering if what they are doing is actually based in reality. Ashlyn used to love Noah before she hated him…and Noah has never acknowledged his feelings for Ashlyn to anyone but himself "…hell if I could concentrate on anything but Ashlyn. It was the age-old conflict of wanting what you can't have, and it began long before Andy Rich and Caroline had taken root from the seeds of her fertile imagination."
Quickly things get hot and heavy between Ashlyn and Noah. Ashlyn alternates between being angry with Noah to craving him, his touch, his presence. For her, this togetherness will be over once the festival is over, whether or not she becomes a success. Soon though, Ashlyn begins to realize her feelings for Noah never left her…"I didn't like the empty feeling I got in knowing Noah and I would never be together like this again. Seeing him every day and knowing exactly what I was missing seemed the most excruciating form of torture." Noah knows how he feels about Ashlyn, but before he can admit it to her he has to admit it to himself. But the past and the present are on a collision course and to overcome Ashlyn will need to accept Noah for who and what he is. Noah will need to let Ashlyn know he believes in her and doesn't want to control her like she feels he does. Both of them will need to open their hearts and their minds to each other if there is to be any hope of a future together.
Fair Play is written in the first person, a format I usually have a harder time enjoying. But Tracy manages to pull it off with a really interesting twist. She writes both Noah and Ashlyn's perspectives both in first person one after the other. She has a unique way of drawing you into the story and getting a really good idea of what is going on in the character's minds. The dialogue is great – amusing at times – and she keeps the flow of the book at a good pace so you're never bored.
Both Ashlyn and Noah are characters that are realistic, from their flaws and personalities to acting on their sexual attraction…even if that starts off in character! Ashley is almost 30, but she comes across as somewhat immature in her attitude towards Noah, which I would have thought would have eased off with maturity! It didn't, but that's another indication she feels more for him than she'll admit to! She's done well for herself, despite her father's misgivings about her career choice, and has a good relationship with her brother. Not necessarily someone I'd want to hang around with, but someone I really enjoyed reading about.
Noah has his issues to, from not being totally honest with Ashlyn and being a bit over bearing, to his sad childhood with his father. Thank goodness for his stepmother, the woman is great! She was a fun addition to Fair Play with brief appearances. He comes across as confident, but I feel like inside he's not as confident as he'd like us to think when it comes to relationships with anyone. Tracy did bring in the pasts of both Ashlyn and Noah, but I felt like it could have been expanded on a bit to give us a better idea of them as people today.
There are a few more secondary characters…Ashlyn's friend, the man from her past, Lucas and her brother Quinn who I will let you find out about in Fair Play!
I'd recommend this to anyone looking for a unique story line, some smouldering sex, and two people not necessary looking for their happily ever after, but they might find it anyway!
Book Info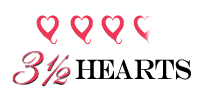 Publisher: Entangled: Indulgence (June 10, 2013)
I'm Ashlyn Carter, playwright. Who knew writing three plays for a nationally acclaimed theater in Phair, Texas, would put my inheritance at risk and force me into constant contact with the very guy I love to hate?
With one chance to prove to my overly controlling father, who says I can make it as a playwright or else lose my inheritance, I've suddenly developed a major case of writer's block. My director claims my older brother's best friend, Noah Blake—the jerk who interferes with nearly every aspect of my life—is my muse. Hah.
Now Noah and I must act out scenes from the play I'm writing in order to "trigger my creativity." The spark of passion I'd felt for him as a teenager flares up again, much to my irritation. But wow—can he ever inspire a great scene. Maybe Noah isn't the enemy the way I once thought.