In Sweet Tea and Secrets by Nancy Naigle, Jill and Garrett were always meant to be together. Or so Jill thought…until she meets Bradley who tells her what Garrett has really been up to. Even though Jill has just met Bradley and has known Garrett forever, she believes Bradley. This sets in motion numerous events that have the potential to forever alter the path of Jill's life.
Jill used to always think she'd stay in Adam's Grove, close to her friends, her Grandmother Pearl, who raised her after her parents died, and working with Garret in the business they'd always planned to start and run together. After the fiasco with Garrett, getting together with Bradley and getting her new job, Jill moves away to Savannah instead. Once in Savannah, visits home to Adam's Grove are covert (to avoid Garrett) and not as often as she'd like (to avoid Garrett).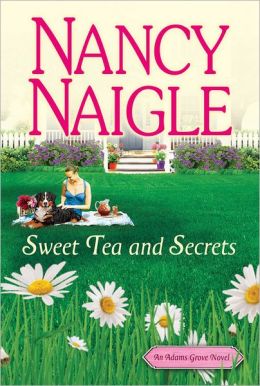 That all changes when Pearl suddenly dies, and Jill is back in Adam's Grove. Initially she isn't planning on staying, but before Jill knows it she is feeling the urge to stay in the only place that's ever felt like home. The relationship with her and Bradley is rapidly unravelling…he is a complete jerk (my opinion!) and gives Jill no support or understanding. She is seeing more and more of Garret, and even though that still hurts, the spark is still there and seeds of doubt about Bradley's story start to sprout. Jill is also now owner of Pearl's huge drooling dog, and after hearing Pearl's video and will, has to decide whether or not she can give Garret and her heart a second chance. Garret is determined he is not going to lose Jill again, he will do whatever he can to prove to her that they belong together. He is willing to put the hurts of the past behind them and move into the future together.
As we get further into Sweet Tea and Secrets, the secrets start to come out…and someone is out to get not only Jill, but possibly Garret too. She has no idea why or who. When she (finally!) breaks things off with Bradley, he does not give up easily…and it's not just for love's sake! Then there's the matter of her job. She worked with Bradley for the Kase Foundation which was never her first dream. With all the mystery and intrigue surrounding Jill things are never boring for her in Adam's Grove! Can Jill be safe there and will she find the courage to follow her heart and dreams? Can she take a chance on Garret, believing in him and them?
"…her heart swelled with a feeling tht she'd thought she'd lost for him. But she knew now she'd never lost that love."
Nancy gives us a really great romance with Sweet Tea and Secrets! I read it pretty quickly, couldn't wait to find out what was going to happen next! At times funny, frustrating (Jill!), heart warming and heart breaking, Sweet Tea and Secrets immerses us in life in Adam's Grove. It's a small town where everyone knows your business, but it's because they care! As I was reading I really felt like I was there sometimes!
Jill was a bit of a frustrating character for me! In most ways she is strong, independent and loving. When it came to Bradley, for whatever reason she was so naive! She'd been with Garret for years, suddenly Bradley came along and drove them apart, but she couldn't see what he was doing! She didn't seem to be in love with Bradley, so I didn't really understand that relationship or what Jill saw in it. Garret is a man after my own heart! He still loves Jill and wants to be with her despite the way she's treated him and the things she's believed about him. He is not bitter or angry (which amazed me!)…a bit hurt yes, but he manages to work through that. He is just a really great and HOT guy! That he got along with Pearl so well and looked out for her warmed my heart too.
Even though Pearl was more of a secondary character and she died early on in Sweet Tea and Secrets, she is an integral part of the story…her history is part of the mystery, one that no one has ever really known before. The love her and Jill had for each other carried over well through the pages. There were quite a few other secondary characters that really fit well with the story. Carolanne is Jill's best friend…then there's the lawyer Connor and the sherriff to name a few.
Nancy writes really well, her descriptives make it so easy to picture what is happening. The characters and their emotions are all ones that you can relate to, even if you don't necessarily agree with them! Sweet Tea and Secrets is a fun yet mysterious romance that you won't want to put down!
Book Info
Release date: September 25, 2012 | Series: An Adams Grove Novel
Revised edition!
This edition of Sweet Tea and Secrets has been revised and includes new scenes.
When beloved town matriarch Pearl Clemmons dies on a warm June afternoon, the folks of Adams Grove, Virginia, can hardly believe it. Sure, Pearl was eighty-five years old, but everyone—particularly her granddaughter Jill—just assumed she would live forever. Now Jill must return home to settle Pearl's estate, comfort a town in mourning…and face Garrett Malloy, the man who broke her heart years ago.
Making matters worse, a string of break-ins at the Clemmons place has Jill and the rest of the town on edge. She can't imagine what Pearl possibly could have had that is worth stealing. But when Jill's safety is threatened, she and Garrett must join forces to unearth Pearl's secrets before someone else—someone dangerous—gets there first. Garrett may have been the last man Jill wanted to see, but now, she may not want to let him go.