After Hours Attraction by Kianna Alexander is a sexy workplace themed romance and the second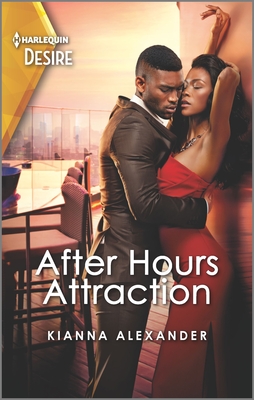 engaging story in the author's 404 Sound series.
Ainsley Voss has always found her boss attractive but since he's her employer he's off limits. She's an effective and efficient assistant and he relies on her, though recently she's thought about applying for an open position in HR. When an equipment shipment doesn't come through, her boss Gage Woodson decides to go personally to collect the next order as they have an important recording artist coming soon and keeping the business profitable means keeping the talent happy.
Gage has secretly found Ainsley attractive too, but hasn't acted on it for good reasons. When he asks Ainsley to accompany him on the private jet to get the equipment order, she's excited for the mini trip, her neighbor happy to take care of her 11 year old son Cooper while she's away. But when Gage and Ainsley's plane has to make a detour due to a storm, they end up in a small town and staying at a bed and breakfast – in one room! It's the perfect opportunity to explore their mutual attraction – but will it lead to more?
I enjoyed this story! The background setting of the running of a music business and all it entails is unique and interesting. Ainsley is a dedicated single mom and her loving relationship with her son (and how it feels to parent a pre-teen) comes through clearly. In fact, that's the snag in the possible relationship between her and Gage – he isn't a kid person. He's awkward around them. Not to mention the working together thing. Gage had a previous relationship with a coworker that ended badly (she'd embezzled money from the company) so he knows that getting involved with Ainsley is a mistake.
Still, once the two of them are alone together with no other distractions, forced to wait out the storm, it's easy to justify a 'what happens in Summer Village, stays in Summer Village' mentality, leading to some steamy love scenes and giving them a chance to know each other in a new way. But once they're back on their way and going home, the reality of their situation sets in and the obstacles to continuing their relationship. Overcoming these requires honest discussion and the will to work things out, which they do, ensuring their happy ending. I look forward to reading more by this author!
Book Info:

Publication: Mar 01, 2021 | Harlequin Desire | 404 Sound #2
Her boss is off-limits,
but their chemistry is off the charts.
Ainsley Voss is an assistant—not a seductress. So why the steamy fantasies about taking Atlanta music mogul Gage Woodson to bed? She knows the sexy bachelor was burned by his last office romance and won't go down that road again, especially not with a single mom. Until a storm leaves them stranded. Alone. Together. But once they've crossed that line, is there no turning back?